Articles tagged with: Eileen Chang

A few months ago was mentioned the posthumous triumph of Eileen Chang with the success, fifteen years after her death, of three autobiographical works: "Little Reunion," available only in Chinese, "The Fall of the Pagoda (1) followed by "The Book of Change (2), written in English.
The quality of these two books is such that it was interesting to analyze the wide variety of topics and events related to the author' s life.
An autobiographical… Lire la suite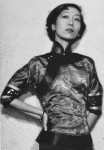 Eileen Chang died in 1995 in Los Angeles after considerable success in China and Hong Kong in the 1940s; she failed to be recognized as a writer in the U.S. where she had emigrated and died at the age of 75, forgotten and isolated. Fifteen years later, she tops sales in the Chinese world, especially among the female audience. She is now considered a major writer. In less than two years, three of her books… Lire la suite
Originally published on Rue89-09/18/2007.
"Lust, caution", a film by Ang Lee, the Taiwanese film director, well known for his previous films ("Sense and Sensibility," "Crouching Tiger, Hidden Dragon," "Brokeback Mountain") has just obtained the Gold Lion in Venice. Many comments in the United States where the film faces a ban to minors, and in China, where censorship demand a half-hour cut. …
But also among readers of Eileen Chang , one of the… Lire la suite