Originally published on Rue89-09/18/2007.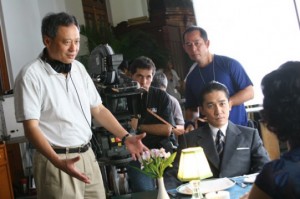 "Lust, caution", a film by Ang Lee, the Taiwanese film director, well known for his previous films ("Sense and Sensibility," "Crouching Tiger, Hidden Dragon," "Brokeback Mountain") has just obtained the Gold Lion in Venice. Many comments in the United States where the film faces a ban to minors, and in China, where censorship demand a half-hour cut. …
But also among readers of Eileen Chang , one of the most famous Chinese writers, the "Chinese Jane Austen " according to some critics. It is indeed one of her short stories that was used for the screenplay of "Lust, caution", the  award winning film.
Eileen Chang's life is full of the topics found in the film. Born in Shanghai in 1920 in a prominent family; at five years old, her mother leaves her to go to England; his father with a concubine devoted himself mainly to opium. At the University of Hong Kong at 19 years old, she began to publish, but had to return to Shanghai when Hong Kong fell to the Japanese.  With short stories published in 1944 she becomes instantly famous.
The following years bring us close to the movie because she marries Hu Lancheng  in 1944, an unfaithful playboy and Japanese collaborator. After the Japanese defeat, Chang cannot "save" her marriage and divorces in 1947. After being under political pressure for writings far away from the proletarian realism advocated by the new regime, she left for Hong Kong in 1952, working three years at the American News Agency, and writes in English works of lesser quality, fighting the New China. In 1955, she moved to the United States where she married an American screenwriter.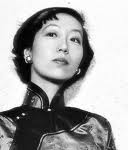 Her literary ambitions were not met in the U.S., she worked at several universities, published screenplays, translations, some of her own novels, and gradually isolated herself; her body was found in her apartment in California in 1995.
She is one of the greatest Chinese writers. Ang Lee explains in his Foreword to the book  which includes the screenplay, and the translation of the short story (Pantheon Books, 2007): "In my opinion, no writer has used the Chinese language with as much cruelty as Eileen Chang and none of her short stories is as beautiful or as cruel as "Lust, Caution". She came back to the  plot for years. In making  our film we have not really adapted the work of Chang, we continued to return to her theater of cruelty and love until we had enough elements to make a movie. "
The film's hero, Mr. Yi, borrows a few elements to her first husband with whom she was madly in love, but according to Lung Ying-tai, former Minister of Culture in Taiwan (where Eileen Chang is a cult writer), the model of Yi could be Ding Mocun, collaborator of the pro Japanese government of Wang Jinwey, who was shot in 1947, and who could have been a double agent working for the Nationalist government of Generalissimo Chiang Kai-shek; the broken heart of Eileen Chang is connected to the "great" history and  to  spy stories in Shanghai …
Thanks to the editor "Bleu de Chine", we are fortunate to have some of her major works translated, "Red Rose and White Rose" and especially "The golden cangue" which is considered by some critics as the finest Chinese novel of the last fifty years. Editions de l'Aube have also published in 2005 "A devastating love".
Bertrand Mialaret