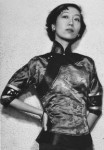 Eileen Chang died in 1995 in Los Angeles after considerable success in China and Hong Kong in the 1940s; she failed to be recognized as a writer in the U.S. where she had emigrated and died at the age of 75, forgotten and isolated. Fifteen years later, she tops sales in the Chinese world, especially among the female audience. She is now considered a major writer. In less than two years, three of her books have been published.
· "Little Reunion," a dramatic love story: She falls for a cynical and talented womanizer, Hu Lancheng, collaborator of the puppet government installed by the Japanese. They married in 1943, but as soon as he returned to Wuhan, he started to be unfaithful. After the Japanese defeat, he was hiding, but Eileen Chang found him in Wenzhou, supported and protected by a young widow. This humiliation did not save her marriage and they divorced in 1947. On the run in Japan, he published memoirs in which Eileen Chang, then a famous writer, played a hopeless role among his eight mistresses.
"Little Reunion "is a book about her childhood and her relationship with Hu Lancheng. In 1976, her friend Stephen Soong, Director of the Translation Centre of the Chinese University of Hong Kong, advised her not to publish the text specially as Hu had been granted in 1974 a visa to Taiwan where lived three years. He then worked for the magazine of the Zhu family, whose two daughters Zhu Tianwen and Zhu Tianxin became later famous writers (1) and were at that time more or less in love with Hu; their father even offered to Eileen Chang to write a book about her works with the assistance of Hu !
Eileen Chang even considered destroying the manuscript of "Little Reunion," a love story that is one of the sources of the short story "Lust, Caution" and of the film by Ang Lee; the success of the film accelerated the revival of the work of this writer.
"Little Reunion ", published in 2009, was printed with a run of 400,000 copies in China and pirated editions were even more important. The ownership of copyright of the work of Chang has been in discussion over many trials. The legacy is managed by the son of Stephen Soong, Roland, who is also the author of one of the most  famous blogs (zonaeuropa.com).
· An autobiography in two volumes and in English: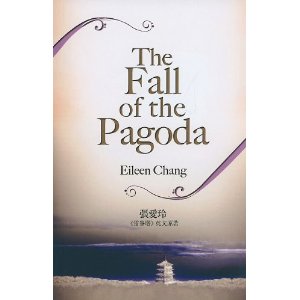 The first volume, "The Fall of the Pagoda" (2) was written in English before" Little Reunion "and published in Hong Kong in April 2010. Inspired by the youth of Eileen Chang, it is a book about the fall of the old society and feudalism.
A little girl, Lute, lives with her divorced mother and her aunt, a spinster. Her mother abandons her to travel to Europe and her father, an opium addict, is totally unable to adapt to his time. A book, completed in 1963 for what she imagined to be the American public … but it found no publisher.
The second volume, "The Book of Change," which deals with her life at the University of Hong Kong, has just been published a few days ago. A release that recalls the fifteenth anniversary of her death and marked by an exhibition and a symposium on her work, all orchestrated by Roland Soong (who in a video in English, presents this exhibition).
Bertrand Mialaret
(1) "Anthology of family Chu, translated by Angel Pino and Isabelle Rabut-Christian Bourgois, 2004.
(2) "The Fall of the Pagoda" University of Washington Press, 2010-300 pages.