Articles tagged with: Gao Xingjian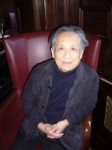 Gao Xingjian, Nobel prize winner in literature is best known for his books and especially for a masterpiece, "The Soul Mountain." He is also known for his plays and his opera "Snow in August" and we admire his creations and his experiments with theatrical forms.
He is also famous as a painter and did not fail to recall that painting for a long time earned his living.
In Paris, Galerie Claude Bernard (1), he… Lire la suite
Le Clezio, Nobel Prize for Literature, is one of the few writers who has never disappointed me: by his work, his likings, his positions, his personality and his distrust of the small Parisian literary world !
Le Clezio has always been interested in China (and Korea, where he teaches regularly). In 1967, at the opening of diplomatic relations, he asked to join the first group of Franco-Chinese cooperation, but unfortunately his application was rejected .… Lire la suite
Originally published on Rue89 08/02/2010.
Gao Xingjian, Nobel Prize for Literature in 2000, recently celebrated his 70th birthday. On this occasion, the University of London (SOAS) organised last January lectures and presentations of his books, films and theater.
The author of "Soul Mountain" (Ed. de l'Aube, 1995) and "One's man Bible" (Ed de l'Aube, 2000) agreed to answer our questions focused on his films and his paintings.
In London, British actors gave a reading… Lire la suite