Sixteen films adapted from literary works will be shown during the next eight months at the Confucius Institute at the University of Paris-Diderot in the "Flour Hall" on the campus of Paris Rive Gauche. Free sessions on Fridays at 5:30 p.m. and films presented by Luisa Prudentino, China expert, Professor at the INALCO, author of "The Eye of Shadows" (Bleu de Chine, 2003) on Chinese cinema after Mao's death.
This program was also prepared by Marie-Claire Quiquemelle, ethnologist and China expert, researcher at CNRS and director of documentary films, and her book on Chinese cinema (1922-1984), published in 1985 by the Centre Georges Pompidou is a classic.
The program combines well-known films like "Farewell My Concubine" and "To Live " with works rarely viewed. In December, two films that I'm having the pleasure of discovering for "Three Destinies" (1949) (Three Girls) by Chen Liting and view once more for "My Life" (1949) by Shi Hui.
"Three Girls" is shown on December 3rd after a play by the famous playwrighter Tian Han (1898-1968). The synopsis given by Marie-Claire Quiquemelle is not that attractive: "Shanghai 1944. Three women with very different fates: Jingmei, working in a textile factory, was raped by two Japanese soldiers then sacked by her boss, her husband loses his sight in trying to defend her against thugs. To care for and support her family, what remains to Jingmei is prostitution. Liang Ruoying is beautiful and coquettish. After her husband's departure for the front, she remarried a collaborator. She lives in comfort but is not happy so far … "
The playwrighter Tian Han is the author of realistic plays that are not translated (1). He is considered the founder of Chinese modern drama. Already author of a dozen plays, he joined the Communist Party in 1932 and then writes many screenplays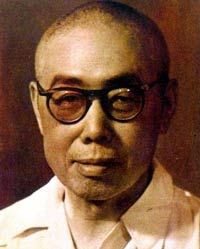 and activist works for the theater and also songs including "The March of the Volunteers", the Chinese national anthem.
He was severely persecuted during the Cultural Revolution and died in 1968 abandoned by everybody.
"My Life" by Shi Hui, based on a beautiful text by Lao She, tells the life of a Beijing  policeman during the storms of Chinese history. It's a beautiful film, acted and directed by one of the greatest contemporary actors. As said by Marie-Claire Quiquemelle (p.107) "this great artist, deeply committed to the tradition of Peking Opera has become an outstanding interpreter of modern theater, then a filmmaker not only important as an actor but also as screenwriter and director. "
He met great success in the Peking Opera where he knew how to interpret all types of roles; very famous in Shanghai, he performs many plays until the end of the war. A very natural way of acting for an actor who knows how to transform and to use make up to perfection.
After 1945, he joins Studio Wenhua where he played in thirteen films, including the three that he directed. "My Life" is a great film that was widely criticized for the desperate ending which was not in line with "the bright future" promised by the new regime.
In 1957, he was violently attacked during the "anti-rightist campaign", against him the fact that with friends screenwriters they rejected some Communist writers and criticized the methods of Stanislavsky, at the time a cultural icon. In addition, he staged a "political" play by Lao She  "Looking in the direction of Chang'an" where some responsible party memebers are criticized, but where the actor was perhaps too successful ! On the eve before a second meeting, where he was going to be under pressure, he disappears and his body is found drowned in a river. Was it a murder declared "suicide" as with Lao She, one will never know …
Bertrand Mialaret
(1) apart from his most famous play "Guan Honqing", translated into English by the FLP in Beijing in 1961 and published in "Chinese Drama, an Anthology", edited by
Edward M. Gunn, Indiana University Press, 1983.