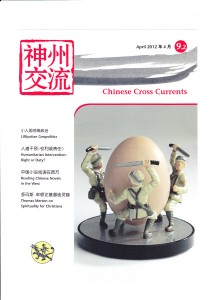 The Macau Ricci Institute asked me a few months ago to prepare an article on contemporary Chinese literature and the West. This text has been published in English and Chinese in the April issue of the journal "Chinese Cross Currents." This magazine has posted the article which was written after a dozen interviews with editors and translators in England, France and the United States.
We will give a quick summary and hope for exchange of ideas with the readers of the magazine.
Chinese literature is part of the "soft power" policy of the Chinese government which has taken many steps to expand exports of books and rights while promoting translations. They represent in the USA and England about 1% of publications in literature.
The style of Chinese novels is not always adapted to the taste of a Western audience and many publishers, for various reasons, believe that translations are not selling and most often choose books on the same topics and "adapt" them to the taste of readers.
Editions of major universities in the U.S. are virtually the only publications that try to build up a quality back list. Public and private foundations are also trying to develop translations by subsidizing them.
The situation in France is more favorable: the translations are a quarter of the publications in literature. The law on fixed book prices has allowed the survival of a network of independent booksellers and specialized publishers (P. Picquier, Bleu de Chine …) as well as some large publishers (Le Seuil, Actes Sud) which publish quality translations .
Nevertheless most published authors are over fifty and few young writers are available; some are of great interest (Han Han, Murong Xuecun …) but are often read for their sociological or political accounts rather than for their literary qualities .
Literature on the Internet can dramatically change this situation as readers and writers are in considerable numbers. New media groups such as Shanda, the development of eReaders and digital publications will affect the distribution and impact of Chinese literature abroad.
Bertrand Mialaret