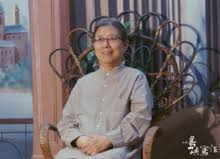 Xi Xi, le pseudonyme de Zhang Yan, est probablement l'écrivaine la plus reconnue à Hong Kong. Une œuvre importante et très variée, peu traduite en Occident. Elle vient d'obtenir le prix Newman , attribué tous les deux ans par un jury international autour de l'université d'Oklahoma ; une seule condition, écrire en chinois. Elle se retrouve en bonne compagnie avec Mo Yan , Han Shaogong et le poète taiwanais Yang Mu ; deux autres femmes, Wang Anyi et Chu Tien-wen ; elle est la première lauréate de Hong Kong.
Xi Xi montre des talents très divers : 7 romans, 21 nouvelles, des pièces pour la télévision, deux recueils de poèmes et surtout de très nombreux articles de critique cinématographique et littéraire ; des traductions (elle parle six langues) et l'animation de revues et d'une maison d'édition.
–        A Hong Kong après la victoire des communistes :
Née à Shanghai en 1938, sa famille émigra à Hong Kong en 1950 ; son père est receveur de bus à Kowloon mais surtout entraineur d'une équipe de football puis arbitre ; une passion pour le football qu'elle partage avec ses quatre frères et sœurs. Après des études à l'Institut d'Education, elle devient institutrice en 1957 et bénéficie vingt ans après de la possibilité de prendre une retraite anticipée.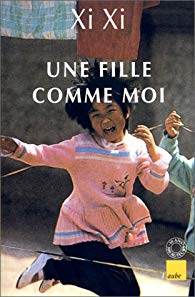 Elle publie poèmes et nouvelles à partir de 1965 et son célèbre roman « My City, a Hong Kong story » en 1975 (1). Avec des amis, elle crée la revue « Plain Leaves » qui devient une maison d'édition. Elle est célèbre en 1983 quand sa nouvelle « Une fille comme moi » est couronnée à Taiwan par le prix de l'United Daily. D'autres recueils de nouvelles sont publiés en 1986 puis traduits (2et3).
En 1989, elle souffre d'un cancer du sein qui l'handicape pendant plusieurs années. Un roman autobiographique (en cours de traduction par Jennifer Feeley) qui fut utilisé comme scénario par un film au titre discutable, « Two becomes One ». En 2000, un second recueil de poèmes est publié dont une partie sera traduite en anglais (4).
–        Des nouvelles devenues des classiques :
Une vingtaine de nouvelles sont traduites, certaines font partie des textes enseignés à l'école. Le texte le plus connu, « Une fille comme moi », mérite sa notoriété : la narratrice a promis à Xia, son amoureux, de l'amener visiter son local professionnel de maquilleuse. Pourtant, son travail n'a rien à voir avec les jeunes mariées et elle doit se parfumer pour chasser de son corps les odeurs d'antiseptique. L'unique vœu de sa tante est qu'elle soit sa dernière maquilleuse…Mais son métier a déjà fait fuir des hommes… ». « Une fille comme moi n'est pas faite pour être amoureuse et je sais que tous les torts sont de mon côté » (P.116).
D'autres nouvelles font appel au surréalisme ou au réalisme magique : un texte court « Le Tiroir » (2B et 5). « Je me demandais où était ma place dans l'immensité de l'univers. Mais peu à peu, très très progressivement, j'ai compris. Dans ce tiroir que j'ouvre plusieurs fois par jour, j'ai finalement découvert la vérité ; c'est là qu'est ma place depuis toujours, au fond de mon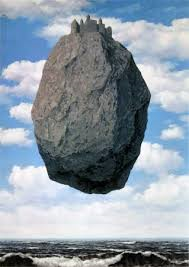 propre tiroir et la certitude d'avoir un refuge en ce monde, me comble de bonheur » (p.52).
« L'histoire du bourg fertile » (3B) est une longue nouvelle, un conte qui nous dit comment Hong Kong s'est développé à partir d'un village. « Bourg Flottant », « Bourg Volant » désigne la ville, sous l'influence d'un tableau de René Magritte. Un développement trop rapide, une terre trop fertile, le bourg devient une forêt vierge, « aucune ville ne saurait être éternellement prospère, ni aucune tomber en décadence durable » (p.93) ; prémonitoire ?
Le style de Xi Xi a été vanté, à mon sens un peu trop (6). Il a été qualifié de « fairy tale realism », « it only applies to some of my novels and stories and they are not written with children or young people in mind", mais elle pense que "fairy tales are the science fiction of the past". Elle a d'ailleurs écrit récemment des textes de science-fiction.
Comme Gao Xingjian, elle se méfie de tous les "ismes" ; elle ne se revendique pas comme féministe (6) : « I am only looking at women from my own viewpoint…Women have been exploited…Women are always put in a separate mold"; "historically, marriage has been among the biggest culprits".
Elle s'intéresse beaucoup à la civilisation chinoise, à l'histoire ancienne et moderne. La nouvelle « Les os du dragon » (2A), nous dépeint avec humour les trouvailles des paysans d'un village du Henan : de vieux chaudrons en bronze, des os avec des inscriptions qu'ils ont baptisés les os du dragon. Un faubourg de Yinwu (près de la ville d'Anyang) était la dernière capitale (1350-1046 BC) de la dynastie des Shang. Un médecin achète ces os pour en faire des tisanes…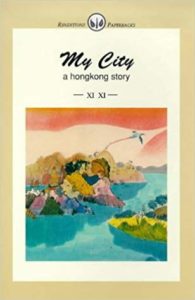 Les réfugiés vietnamiens à Hong Kong sont le sujet de « La cage du tigre » (3B). On a oublié l'importance de l'afflux, à partir de 1970, de ces réfugiés à Hong Kong qui sépare ceux qui se voient accorder le statut de réfugiés politiques, des « boat people » qui sont des migrants économiques. Xi Xi nous parle du camp de Kai Tak, des réfugiés et de l'attitude des pays occidentaux vis-à-vis de 200 000 personnes. Les camps disparaissent avant la rétrocession à la Chine en 1997.
–        Hong Kong passé, présent…futur :
Les références historiques sont multiples dans son roman « My City ». Un roman sur la jeune génération, sa vie, ses attentes. Les personnages sont Fruits, sa soeur Braids et leurs amis, Merry Mak, North et Swim. On nous parle du passé et du présent, de leur évolution professionnelle; Fruits s'occupe de la maintenance de téléphones avec Merry Mak.
Une impression synthétique d'une écrivaine sur Hong Kong sans beaucoup de détails sur les quartiers. Le roman a eu du succès, mais on peut regretter l'absence de progression dramatique et surtout des personnages plutôt transparents qui souvent n'existent pas vraiment.
–        « Not Written Words », les poèmes:
Cette anthologie bilingue (4) est plaisante ; un style très simple ne recherchant pas l'effet. Des thèmes très divers ancrés dans la réalité. On nous parle de la « Letter Writer » (p.99) :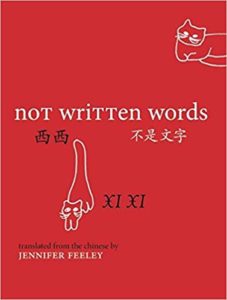 Her occupation is letter writing, employing
An age-old method to transmit messages
Though the telephone has made it a bygone trade, it's still rather romantic
There are loyal customers, illiterate and down on their luck
Who show up muttering and pour out their hearts, asking her to take notes…
Un poéme étonnant "Reading translations of the closing couplet of Yeats "Among school children" (p.133). Elle compare les versions de Qiu Xiaolong, de son professeur Bian Zhilin, du poète Yang Mu :
« O body swayed to music, O brightening glance
How can we know the dancer from the dance? …
To read the original is to read the author
To read the translation, is to read the translator."
Elle est très ancrée dans la modernité du fait de l'impact de ses voyages. Comme en témoigne « Driving through Palestinian refugee camps » (p.113) :
"What's home without a country, so you gather all your might
To fight for a homeland of your own, yet we still
Call you all terrorists, annihilate every last of you…
One people's reborn nation is another people's ruin".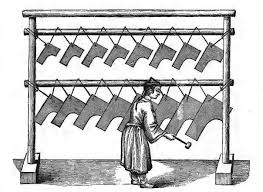 Mais elle n'oublie pas les traits anciens de la civilisation chinoise dans « Stone Chimes » (p.43), un long poème sur les lithophones :
A sonorous, harmonious chorus of Southern tones
Ancient yet everlasting
Channeled all the way from the Warring States
And still so
Youthful
Funny that
They're really nothing more than a few fragments of stone.
Bertrand Mialaret
(1) Xi Xi, « My City, a Hong Kong story", translated by Eva Hung; Renditions Paperback, Hong Kong 1993, 180 pages.
(2) A -Xi Xi, « Une fille comme moi », recueil de onze nouvelles , traduit par Véronique Woillez. Editions de l'Aube, 1997, 127 pages.                                                                                                                                                                                                                                                                                                                                                                                                  «  (2  B- Xi Xi, "A girl like me and other stories", translated by Stephen C. Soong.
(3) A- Xi Xi, "Marvels of a floating city and other stories", translated by Eva Hung. Chinese University of Hong Kong, 1997.
(3) B- Xi Xi, "Au fil de la vie », traduit par Véronique Jacquet-Woillez. Bleu de Chine, 2006, 115 pages.
(4) Xi Xi, « Not written Words", translated by Jennifer Feeley. Zephyr Press, 2016, bilingual, 150 pages.
(5) Xi Xi, "The Drawer", in "A Place of one's own", Oxford University Press, 1999, page 179.
(6) "A rare conversation with the cult Chinese writer Xi Xi", interview by Megan Walsh. Literary Hubs; 3/5/2018.