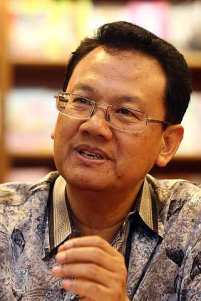 Anwar Ridhwan is one of Malaysia's best-known novelists and has benefited from numerous translations of his works written in Malay. He is a pure product of the system that governs literature in Malaysia both in his academic career and in his professional life as a civil servant. He is one of the thirteen writers declared National Laureate, but he has an international openness that others do not have. Two of his novels and some of his short stories are undoubtedly worth discovering.
A product of the system:
He was born in 1949 in a small village in the state of Selangor, the last of six children in a farmer's family. He completed his high school studies at the Sekolah Alam Shah in Kuala Lumpur. University studies at Malaya University, BA in 1973 to PhD in 1988.
In 1973, he joined the official body in charge of promoting Malaysian culture, the Dewan Bahasa dan Pustaka (DBP), where he became head of the Literary Development Department and then, at the end of his career, the Director of Publications.
In a 2009 interview, he acknowledged the shortcomings of the DBP: several years to decide on a publication, young and inexperienced staff and especially no promotion abroad of the translated works, which are often difficult to find.
An infrequent international opening: a course on publishing at New York University and the famous International Writing Program at the University of Iowa in 1986. In 1997 and for three years, he was Visiting Professor at the Tokyo University of Foreign Studies.
An interesting interview in English tells us about his personality; this text was translated into the excellent Lettres de Malaisie website in July 2012. Anwar Ridwan acknowledges the negative impact of censorship in Malaysia and mentions his favourite writers, Keris Mas, Shanon Ahmad and abroad Hemingway and Faulkner.
He is concerned about race relations (Malay, Chinese, Indians) in Malaysia due to the education system and language policy; he is a strong advocate of the exclusive use of the Malay language and hardly praises Malaysian literature written in English or Chinese.
A National Prize Winner:
After numerous local literary prizes, he received the most prestigious literary prize in 2009 and is the tenth National Laureate. After him two winners in 2011 and 2013 and finally in 2015, a woman, a poet, Datuk Zurinal Hassan.
This award recognizes books in Malay, the national language. Other languages are considered as "sectional literature". Ridhwan is not very convincing when he tells us that a Chinese writing in Malay could be a National Laureate.
The prize is financially well endowed but has other advantages: the prize is awarded by the king, 50,000 copies are purchased by the government and DBP publishes and translates the works. There is even the possibility of first-class medical treatment in public hospitals.
Anwar Ridhwan has published few books: four novels, four collections of short stories, plays and three collections of essays. His main objective is "to defend the positive culture and the good values we inherited from our ancestors. With the emerging global culture tsunami, positive culture and good values are fast disappearing from our society".
"The last days of an artist" (1), his first novel in 1979: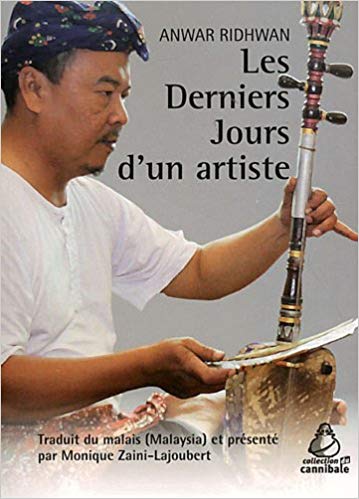 A beautiful novel about the end of a traditional world. Pak Hassan arrived in the village in 1924 with his pregnant wife and a baby girl. He is a storyteller and is accompanied by the rebec, a bowed stringed instrument. The villagers are seduced, adopt him, help him build a house and clear a rice field.
His wife died giving birth to a son. The Japanese invaded Malaysia and passed nearby. According to the elders, "the beach is never the same after the tide; who knows, we may have a better life under the Japanese (p. 22). His son is ill and will not be able to succeed him. Children prefer to listen to the village radio rather than to Pak Hassan's stories.
Sanah, his daughter, is raped by a masked man. Mansoor, one of the young people of the village, is found hanged; God punished the guilty party. Pak Hassan lost everything; his daughter fled the village gossip, his son, with whom he had a stormy relationship, also left the house… The villagers will find the storyteller's body and dig a grave near that of Selamah, his wife.
The novel is a remarkable and poetic description of everyday life, the importance of religion and the beauties of the surrounding nature. Pak Hassan's death marks the end of his art.
"The Other Bank" (2), for a more harmonious nation:
A beautiful translation by the writer and poet François-René Daillie (1925-2012) who spent a long time in Malaysia and became a specialist and translator of Malay poetry, pantouns ("Old Malay voices" 1993).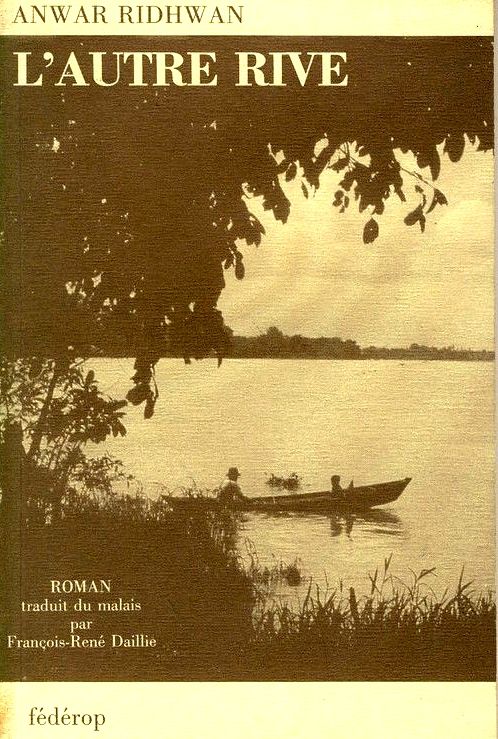 The translator tells us that "Arus", the title of this 1985 novel, is translated as "Courant", but he preferred another title by wishing for a more united nation around the same language and common objectives.
Pawan Kri's wife was the subject of attentions before her marriage by Lebai Amrah, the imam of Tak Wali kampong. He calls the husband unfaithful, Jewish and refuses to bury her when she is killed by a crocodile. Pawan Kri has been turned out for 25 years on the other side of the river where he lives with his daughter Azizah.
He lives, very well, from the trade of crocodile skins, which he often kills with a knife while diving. A banker, Muslim, pursued by a banking scandal and Salleh, a professor of English literature, arrived.
They want to kill the monster that terrorizes the village of Tak Wali. Pawan Kri is difficult to convince because it is not his problem; finally he accept to guide them. A chicken is used as bait and the crocodile is phished. Pawan Kri dives but does not get back. Lebai Amrah accepts that he be buried in the village because he has a son who could marry Azizah.
Rumours of the banking scandal are already reaching the village. The book was written at the time of the forgotten Bumiputra Malaysia Finance scandal when Dr. Mahathir was already Prime Minister. 2.5 billion Ringgit. Not insignificant even if it does not have the magnitude of the huge 1Malaysia Development Berhad (1MDB) case in which former Prime Minister Najib Razak is involved.
"L'Autre Rive" is an engaging book, a beautiful text with complex characters, few in number and well analyzed. A hymn to nature, the river, the jungle, the power of animals. The villagers are bound by tradition but would be ready to evolve. Islam is important but the imam in this novel is not a pleasant character.
"Border Crossing" (2012): communism, capitalism, blossoming in Islam :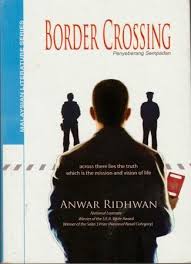 This novel, written more than twenty years after the previous book is very different and was published after the author's nomination as National Laureate.
Kuay's father, a young villager, died in prison by the English. At 17, he saw the British fleeing from the Japanese advance. After the war, Kuay joined the Communist Party in the jungle in Malaysia. Wounded, he went to Thailand and from there, via a boat to Singapore, found himself in Beijing and then after a few years in Moscow.
A meeting in Cairo allowed him to flee the Communist Party and be welcomed in the United States; his admiration for the American system was tempered by Shafi'aa, a Palestinian refugee with whom he fell in love. She shows him that the United States is only concerned with its own interests and not in the progress of the democratic system in the world.
In an Arab country, he is handed over to Malaysian security, which has been looking for the terrorist Kuay for years. After six years, he is allowed to return to Malaysia. Shafi'aa, his future wife, shows him that he must "cross another border into Islam" and that Islam "is appropriate for all people at every age"; this is what he will do when he returns to his village.
The demonstration is a little heavy- handed even if the novel can be read with pleasure. Historical sources are weak; the life of the Malaysian Communist Party (MCP) and its links with Beijing are only sketches. The memoirs of Chin Peng (7), the boss at the time of the MCP, will be read with much more interest, even if they suffer from a lot of self-justification efforts.
Another important issue is not mentioned: resistance to the Japanese invasion and then the fight against the British were mainly led by the Chinese; Malay armed groups were limited in number even though one of the main leaders of the MCP, Rashid Maidin, is a Malay.
A wide variety of short stories, "After the War" (4):
There are few short stories in French translation, we will note "Les Sangsues" (5) and "Aging in New York" (6). "After the War", brings together 22 short stories from 1976 to 1986.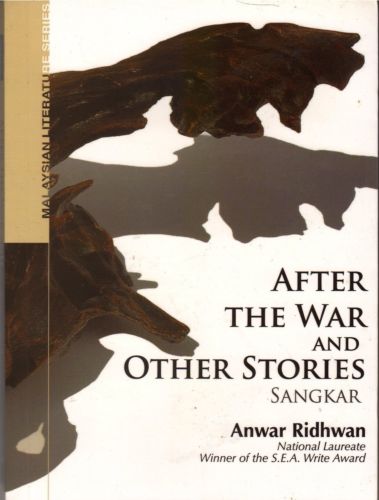 We are surprised to find three excellent texts located in New York, including "Growing Old", "Friend" and "Manhattan Music". "Growing Old" tells us the story of Hassan who is studying art at New York University. He meets a pretty girl named Laura Balan who confesses her love feelings to him. Hassan's mother told him in the past: never marry a white woman. Hassan asks for time to decide; will they go to Malaysia together?
In "Friend", a young Malay couple in New York is amazed by the attitude of a village elder, a long-time New York resident, who refuses to let things settle amicably as in their village!
Other themes are related to war, colonialism, the struggle for independence.
The short story "After the war" is remarkable; the war still impacts the daily life of Maritah and her family. Her son Jali has a much fairer skin than his sisters… A very well constructed text, very clever.
"In the Mist" tells us about the closure of a mine whose employees have adopted the lifestyle of their American bosses. The savings will vanish but the father finds jade, a new mine will be born.
Other texts concern life in the village and even on a "long house" where the village chief Jinggat will have to adapt to modernity. Life accidents and their consequences are frequent themes: in "Jambu", poverty forces a couple to sell their son; in "Darkest hour before dawn" a storm destroys the plantation, this time it is not the elephants… He is ready to abandon everything but his fiancée remains at his side and will not leave him.
Finally, some of the short stories concerns traditional themes of the history of Malaysia, on stories with animals and even on dreams and artistic creation ("The cave, my woman and the landscape").
Bertrand Mialaret
(1) Anwar Ridhwan, "Les derniers jours d'un artiste", translated by Monique Zaini-Lajoubert. Cannibal Collection, 2011, 150 pages. (an English translation is also available).
(2) Anwar Ridhwan, "L'autre Rive", translated by François-René Daillie. Federop 1989, 125 pages.
(3) Anwar Ridhwan, "Border Crossing", translated by Zawiah Yahya; ITBM 2014, 250 pages.
(4) Anwar Ridhwan, "After the war and other stories", translated by Adibah Amin. ITMN 2010, 234 pages.
(5) Anwar Ridhwan, "Les sangsues" translated by Laurent Metzger in "Nouvelles de Malaisie", Magellan et Cie, 2016, 140 pages.
(6) Anwar Ridhwan, "Aging in New York" translated into French by Andrée Feillard in the excellent collection "Baboon and Other Malaysian short stories", Olizane Editions 1991, 260 pages.
(7) Chin Peng, "My side of History", Media masters, Singapore, 2003, 520 pages. ;\