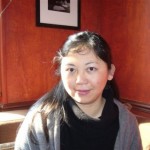 We have already mentioned the talent of the Chinese-American author Li Yiyun in a post mentioning  a film based on one of her short stories ("A Thousand Years of Good Prayers"). We have been able to meet her in Paris during the launch of her novel "A beautiful spring day."
From Beijing to San Francisco from immunology to literature
Born in Beijing, Yiyun Li is 38 years. After studying Mathematics and English, she enrolled at university to study immunology.  She will continue her studies in the United States at the University of Iowa, a university also famous for its creative writing course which she will finally attend. She has been awarded numerous prizes for a collection of short  stories (which will be translated  next year by her publisher Belfond) and published her first novel "The Vagrants".
It can be understood that  the title « The Vagrants » is not commercialy optimum but,  "One beautiful spring day" as a title is nonsense or  black humour. Nothing  spring –like in this small town in  northeast China where the population is invited to attend the execution of Gu Shan, a former Red Guard who became a harsh critic of the system.
The characters are linked together and speak of Gu Shan, these are average people except for one of her classmates, Kai, the star of the town radio station  married to a local politician.
The existence of all these people is upset less by the execution of Gu Shan than by the news of  the events in Beijing around the "Democracy Wall". Indeed, in 1979, China was opening to the world after the Maoist period and posters on this wall in Beijing, generated discussions and improvised meetings, which, after a period of uncertainty in the ruling bodies, will ultimately be punished.
Bertrand Mialaret: Why did you choose this period?
Li Yiyun : During these  years, China was opening  and I have my memories as a little girl. It is a way back to my childhood. The book, based on historical events, has no autobiographical  character and is not a judgment on China, nor a way for me to turn the page. I visit China, and as my two children are growing up, it will become easier.
The profession of my parents (nuclear physicist and teacher) has provided  shelter during the Cultural Revolution.  I know little about the history of my grandparents. On the side of my father, they were illiterate peasants in the region of Shanghai, on the maternal side, traders who have suffered greatly during the war: their trade was burned and my grandmother was raped by Japanese soldiers and became insane. The family of my husband is from northern China.
One of your favorite characters, the father of Gu Shan is Manchu.
My family and my husband have no ties with the Manchus, but I have great admiration for what they brought to China. I like the father of Gu Shan, he is a victim. Perhaps he represents my own weaknesses. Like me, he is a nostalgic and he likes to write letters, many letters. He is an intellectual, but he thinks more than he acts !
The analysis of the characters is quite an achievement …
For me, this is essential, an author must respect and love his characters. Otherwise everything is schematic and  this is sometimes the case with the present Chinese literature. For this reason, I just wrote a fairly negative article on the latest book by Su Tong , "A boat to redemption" which is his best book up to now.
I was blamed by readers in the US for the cruelty of the novel and the helplessness of the characters: they demonstrate against the execution of Gu Shan but accept the punishment that will follow. I am told that my readers must have a strong stomach, I take this as a compliment, literature is not for the faint  hearted.
What interests me is not the historic event, the "Wall of the Democracy" or heroic characters, but simply the motivation of people at the time.Cruelty is not a weakness : look at the short stories by Yu Hua, one of my favorite writers in China. See also Shen Congwen, another period, but  indirect cruelty; he stopped writing after the Revolution but imagine what he could have said about communist China.
You refuse the responsibility of the writer as considered by Lu Xun ?
I appreciate him as a writer but he wanted to play a role as a cultural beacon of the time. His fiction is sometimes close to propaganda. But I learned a lot from him and I owe him a lot, so I agreed to write an afterword to the recent English translation of his works of fiction published by Penguin.
I do not want to be an intermediary between Chinese culture and the United States. I try to talk to those that I consider my masters. I set the bar quite high, I know I will never write like Tolstoy or Chekhov but if a portion of my book is at this level, I am very happy.This approach is a little bit selfish and I am not very close to literary circles. My husband says he is much more a feminist than I am, he's exaggerating but I am very neutral on this subject.
Your projects for the coming months?
Perhaps published in Taiwan, but certainly not in China. Once the book is translated into Chinese, I do not know if I'd like my parents to read it !. A second collection of short stories will be published in England in September; in my opinion it is better than the first volume, and takes place in China in the 1990s.
I'm working on another book in  theChina of the late twentieth century. Contrary to my first novel where people cannot leave their small town, now China is open but a small group of people will see their lives upset by an assassination plot …
Bertrand Mialaret
► ► "A beautiful spring day" by Yiyun Li – translated by Françoise Rose – Published by Belfond – 440 pages. – 21.50 euros.
Photo: Li Yiyun in Paris, April 2010 (Bertrand Mialaret).