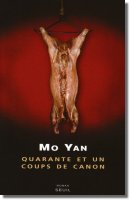 Originally published on Rue89, 24/11/2008 .

If you are a vegetarian, do not read this novel! You will live in modern China, the passion for meat, the slaughtering, processing, consumption of … Meat and alcohol as allegories of greed and modern debauchery.
 Boasting and lying, a "canon child":
Two periods of time, a decade apart, are simultaneously used in the forty-one chapters, as the story telling by a child, Xiaotong Luo. As an adult, he tells an endless life to an old monk he intends to join as a follower. Mo Yan, in his afterword, writtes:
"If you absolutely must define the plot of this novel, it is precisely the story of a child who tells an endless story ". "Great Monk, in our village, we call " cannon child "a child who likes to boast and lie, but everything I said is pure truth. "
Again, the author, as in other novels "The Clan of sorghum" or in the collection of short stories "The Iron Child, " allows the story to be told by a child who becomes an adult even though" his body grew, but his mind not yet. " He is not a bastard like Jintong, the anti-hero who cannot  become an adult in " Big breasts and wide hips" (2004), he is not as cynical.
We are going to meet the mother of Luo Xiaotong, abandoned by a husband who returns years later with a little girl, Jiaojiao. The mother, with Mo Yan is a central figure, the embodiment of his country, his Shandong province. Her strength, her energy will become intolerable for a very weak father.
The characters have great depth: Wild Mule, the mother of Jiaojiao; Lao Lan, the head of the village, who develops the region, his own wealth and organizes his political support.
After alcohol… meat :
This book seems a sequel to one of the greatest novels by Mo Yan, "The Republic of  Wine" (2000). Meat and alcohol are complementary and illustrate in an allegorical manner a life of debauchery.
Xiaotong Luo has a special relationship with meat, the real passion of his life:
"The sky brought me to live in a village which specializes in the business of meat, my eyes always fell on either meat that moved up or lying on the meat that was not moving. "(P. 17)
The real talent of Luo: "in my brain, meats had an image, they had a language, they were living objects with rich feelings, they were able to exchange with me" (p. 265). He will stop his studies at twelve years and become the architect of the success of the slaughter plant and its fraudulent techniques of injecting water into the meat.
He also knows how to eat and in a meat eating contest, he is not, unlike adults, "hooked" by the meat, which is no load to his stomach.
"Worldwide, people who eat meat are as numerous as grains of sand in the Gange river, but among men who have turned into art and beauty the low level activity of eating meat, there is only one, myself "(p. 376).
These feasts, this passion for food recall the  amazing descriptions of "The Republic of Wine"; the myths and the topics of classical literature are in line with all this story telling energy by Mo Yan.
The failures of society:
The translation is by Noel and Liliane Dutrait who, in addition to Mo Yan, translated the great novels of Nobel writer Gao Xingjian. What Noel Dutrait writes about the "Republic of Wine" applies perfectly to this text "that succeeds in both underlining the failures of contemporary Chinese society while going very far in its relations with Chinese literature as a whole … "
Corruption overruns this village, food fraud is organized on a very large scale; control organizations are threatened, then paid; journalists are also paid by the factory. The role of the Party is not mentioned although regional officials are mocked; the red lights of censorship are not passed.
Gluttony follows the hunger experienced by Luo Xiaotong in his younger years. The body and all its functions is mentioned at all times.Waterfall of words, a great vitality, a style full of joy, but sometimes  coarse and scatological.

An allegorical novel :
As mentioned by Mo Yan [cf. " Literary Franco-Chinese debates"; Maison des Sciences de L'Homme(2004)]:
"An author, when he writes, should always keep all his senses awake … so he is able to bring life into his novel which is not just a set of words written on paper but a  living body with smell, voice, warmth, shape and meaning. "
We understand that even though Mo Yan claims to be rooted in modern China, we do not have in  hands a realistic or political novel .The allegories, the symbols, the supernatural are another type of novel.
"In this book, the idea is to tell, the narrative is the main topic, the narrative is the thinking of the book. The goal is to tell as a main objective … Many writers are from beginning to end of their life, children who cannot grow, or children who are afraid to grow up … a contradiction which is dynamic for a novel "( Afterword p. 500).
In another of his great novels, "The Torture of the sandal pole" (2006), Mo Yan claims the continuity of a tradition in "popular" literature; he then drops complex constructions and sophisticated styles. This novel follows this trend.
We must underline the efforts of publishers (Le Seuil) and translators (Noel and Liliane Dutrait, Chantal Chen-Andro); we have the chance to be able to read all the great novels of Mo Yan in Frech, while only a few texts are published in the United States . Next year will be released the translation by Chantal Chen-Andro of a novel that has just been published and translated in English ("Life and death are wearing me out").
Mo Yan fascinates us with the variety and the extent of his talent. He has recently been awarded the Newman first prize in Literature from the University of Oklahoma and the prize of the Hong Kong Baptist University for his latest novel …
Bertrand Mialaret
►" Forty-one guns" by Mo Yan – Seuil – October 2008 – 501P. – 24 €.