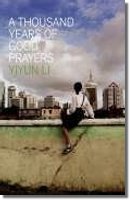 First published on Rue89.com, 08/30/2008.
In the  summer cinema programs,with  the month of August no longer a desert, this year there was a double gift: two films by Wayne Wang, "A Thousand Years of Good Prayers" and "The Princess of Nebraska". Less known than the Sino-American filmmaker, these films are based on works by Li Yiyun , a young Chinese writer living in San Francisco.
Two films, with "A Thousand Years", very controlled, and "Princess …" much more improvised and in a very different style.
Wayne Wang was born in Hong Kong where his family had fled communist China, he moved to the United States to study painting and film and has finally settled in San Francisco where he produces Hollywood style movies (such as "Maid in Manhattan") and independent productions.
A Thousand Years of Good Prayers …
This is how long it takes to bring in agreement a daughter with her father; in the film, it would take a lot more … Yilan, a young woman, a librarian at the university of a small American town, has just divorced a Chinese husband, who returned to Beijing after seven years. Her father, Beijinger, says that he wants to discover America but in fact is worried about his daughter.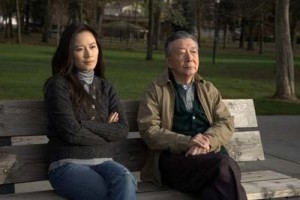 The relations are quite cold, very different from what the father is having with the neighborhood in spite of his limited English. He blames his daughter's silence, but she is no longer in China: she replies, challenges him, refuses his prayers ("she does not know that cooking has become for him his prayer, and she leaves his prayers without answer … ").
The role of language is essential. "Dad, if you had been educated in a language in which you have never expressed your feelings, it would be easier to use another language … it will make you a new person."
But if his daughter rejects her language and culture, she remains deeply influenced by her education, which is in fact her spine. Her father, he is not what he claims to be…
Little-known actors, but a remarkable performance (the movie and the main actor were honored at the last San Sebastian festival). Images are a bit cold and of great sadness; you may think of the character of the father in "The travel to Tokyo," the masterpiece of Japanese director Ozu.
The Princess of Nebraska has lost her prince:
The second film, shot in San Francisco, shows a lot of invention, an outstanding performance but also some pitfalls that the short story by Li Yiyun had avoided.
Sasha, a young Chinese girl of twenty years old, is leaving Nebraska, where she has begun studies for San Francisco where, four months pregnant, she wants an abortion. No maturity, no culture, her mobile phone is her contact point with the world.
The child's father, Yang, a young Beijing resident, eighteen years old, is an actor in the Peking Opera, a beautiful youth who play the roles of women and collects male lovers. One of them, Baoshen, returned to San Francisco, trying to convince Sasha to keep the child of Yang.
The short story by Li Yiyun was focused on this unlikely relation where Baoshen wants to remain with Yang, who loves only himself and Sasha who is not really in love.
In the film, Sasha is the central character with her weaknesses and her small naïve tricks. Scenes of Karaoke or flirtation between Sasha meeting a young Chinese, are a bit of a"filler", but her questions about a possible pregnancy and her inability to see and want a future, are very strong.
A novelist of great talent :
Yiyun Li is thirty-six, she spent her childhood in Beijing in a residence reserved for engineers involved in nuclear research, which enabled her parents, a physicist and a teacher, not to be challenged during the Cultural Revolution.
Gifted in mathematics, she learned English and, after the crackdown in Tiananmen Square in 1989, is integrated into the army for a year of political rehabilitation before being allowed to enter university to study immunology .
She won a scholarship to continue her studies in this area in the United States, in Iowa. Lucky enough, because Iowa is a university well known for creative writing courses that she will attend, scientific studies completed.
Supported by her teachers, she published short stories in American magazines and collects the most prestigious literary awards. Teacher, married to a Chinese computer scientist and mother of two children, her reputation grows: she signed a contract for two hundred thousand dollars with the publisher Random House for a collection of ten short stories (1) and a novel "The Vagrants" to be released in the United States early next year (Short stories will soon be translated into French and published by Editions Belfond).
A few questions by phone to  Li Yiyun:
Q– On the movies…
I wrote the script of "A thousand years …" ;as you noted, the final scene is different from the book but I think it is strong. I did not participate in the choice of actors, but I think that Henry O, playing the role of the father, is a very good idea.
The second film is inspired by one of my short storis, but my involvement ends there; Wayne Wang wanted to shoot this film in San Francisco it is his project.
Q-You do not want to write in Chinese?
I've never written literature in Chinese; when I started writing, it seemed much easier to start in a new language. When I think of a story, it is in English and  seldom in Chinese, except when I think of a Chinese expression that is to be translated.
I did not have a problem but I know that other writers of Chinese origin have experienced difficulties as they began their career in China and in Chinese.
Q-Do you read Chinese literature?
I try to stay abreast of what is happening in China, but I read very few contemporary writers because I am not impressed by what is written. I like the literature of the forties. Shen Congwen is my favorite author and it is unfortunate that so little is translated . [Shen Congwen (1902-1988): there are two titles translated into French by Isabelle Rabut in the collection 10-18: "The little soldier of Hunan" and "Border town"].
I am also close to the books by Lu Xun and Eileen Chang.
I do not  read many Sino-American authors, but Ha Jin is a friend; I don't have to do it and I do not read many novels written by women.
I am not interested in the marketing of my books or my promotion as a writer, I try to write good stories but of course it's a reality that cannot be overlooked.
Q-Your book is translated into Chinese?
I hope not, there are many writers who should be translated into Chinese before I am. Besides my short stories are written for a Western audience and therefore there are many things that I have to use less including references to history and Chinese culture.
In China, there is a long tradition of translation, for example many French writers of the early twentieth century have been translated at that time by prominent Chinese writers.
Westerners know little about Chinese culture but we are talking more and more about translation even if it is not developed in the U.S. probably because of lack of good translators and people prefer that we write in English about China .
I travel a bit in China, I returned recently after many years but my parents come to see their grandchildren regularly, When the children are older, I will go there more often..
Bertrand Mialaret
► A Thousand Years of Good Prayers by Li Yuyin – Random House 2005 – 205p.