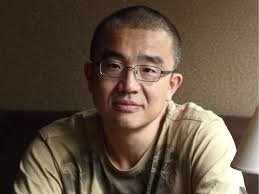 Two short stories collections, "War Stories" and "Shenzheners" by Xue Yiwei , a celebrated writer in China who lives in Montreal for almost fifteen years, are now translated into English.
– From Shenzhen to Montreal:
He grew up in Changsha, Hunan, where he worked for a local government body after studying computer science in Beijing. In 1989, at 25, he published his first novel "Desertion", an essentially autobiographical book. A total flop in China, awarded two years later with a prize in Taiwan. In 1993, he completed a doctorate in literature at the University of Guangzhou and published a number of short stories. He became a professor in Shenzhen in 1996 in the department of Chinese literature of the university.
Shenzhen is an important step in his life: this fishing village is in 1979 a special economic zone. An explosive growth that reminds us of Yan Lianke's latest novel "Explosion". Ten million inhabitants in 2011 in Shenzhen in the megalopolis of the Pearl River (200 km from Canton to Hong Kong) which has 50 million inhabitants.
As the author says "Shenzhen is also the border of Chinese globalization … I felt strong waves of the new era everyday … I have felt and been inspired by the inner world of ordinary people under the impact of globalization. This is the reason I decided to write Shenzheners ".
In 2002, he left for Montreal and studied English and American literature at the university while writing numerous literary reviews for two magazines in China. In 2010, visiting professor at the University of Hong Kong city, his works are noticed by two famous professors and literary critics, Wolfgang Kubin and Liu Zaifu. Their enthusiasm creates an editorial excitement that also leads the author to rewrite everything he published before 2010.
His second novel was then released in Taiwan, "Docteur Béthune's children", a book still banned in China. Docteur Béthune spent eight years in Montreal from 1928 to 1936 before leaving for Spain during the civil war and then for China. He arrived in Yan'an in April 1936, attended the wounded of the VIIIth Army and died of a septicemia in 1939.
Mao Zedong's tribute was studied by all Chinese schoolchildren: "The spirit of Comrade Bethune, total self-forgetfulness and devotion to others, was evident with his deep sense of responsibility for work and his affection for the comrades, for the people. Every communist must take him as an model. "
– Famous in China but little known in Montreal:
He continues to live in Montreal: "There are two major reasons that attracted me to settle here. I belong to the generation of Chinese writers profoundly influenced by existencialism and French literature. And Dr. Bethune was the spiritual father of the Chinese who grew up during the Cultural Revolution. "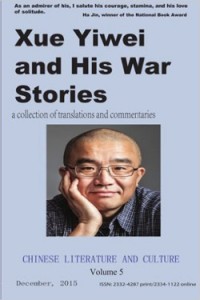 Five short stories, "War Stories" are finally translated (1) which underline the misfortunes of men and the absurdities of revolutions. Brutality and cruelty are shared by all belligerents, Japanese, communists and nationalists. The characters look for a meaning for their lives during wars where they are involved but do not succeed.
"Winning the first battle" is the short story that appealed the most to me. The father, a general, represents all that the Revolution wants to abolish: aristocracy, wealth, feudal system, bigamy. Despite his fortune, the son wants to join the Revolution. His life has no meaning. He joins the Revolution for himself and not for what it represents. The father followed him but eventually left him, it was the first victory of the son. After the war, he will understand that his father sought above all to protect him and not to control him. The family, in the absence of the father, will be destroyed by violence and war. "In fact death is the greatest lie of all, it eliminates everything and covers everything."
For Xue Yiwei, the most important is his independence, he is not a member of any official organization. The essential thing is literature; He re-reads "Ulysses" by Joyce and the short stories by William Trevor, that as Yiyun Li he considers a master.
"Being an invisible man in the country where I choose to live while being a big name in the country I chose to leave, has   brought me an amazing experience. It is not easy for a writer to be removed from his readesrship. Of course censorship matters ".
– "Shenzheners", the Chinese "Dubliners":
Such is the comparison, excessive in my opinion, introduced by some Chinese critics even if this collection of nine short stories, translated with talent by Darryl Sterk (2) is of top quality. Joyce is an important reference, Xue Yiwei wrote his doctorate on the works of this writer and dedicates "Shenzheners" to "the Irishman who inspires me".
The short stories only implicitly refer to Shenzhen, the city is never described. It is the social status of the characters and their relationships that are significant; Unspecified characters, without name, without much chronology.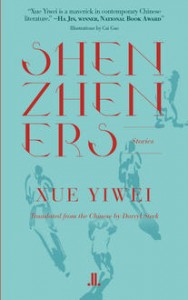 Residents feel that they are foreigners in this city even after having lived there for many years. As a character says "almost everybody in this city is an immigrant, just like here in Canada." A neutral style that does not try to move, neither sententious nor moralizing and with great compassion for the characters.
Very different themes: "The prodigy", a child, a vey gifted pianist, is upset by the touching of his new teacher; He abandons the piano and strives to become a mediocre man. "The taxi driver", the only short story written in Shenzhen, tells us of the last customers of a driver.
One of the "Two Sisters" chooses a husband whom one can trust; he is not the favourite of her little sister who piles up mistakes in her love life. A friend of her will cause catastrophes and the older sister will try to take revenge from the husband who has deceived her.
"The mother" shows us how small details of everyday life, closing the door, recommendations to the husband … mark the deterioration of relationships in a couple.
"The country girl" is a real master piece. The heroine lives on a farm and takes the train to visit her mother suffering from senile dementia. She sits beside a Chinese. She reads Paul Auster; he knows him by the translation he has in his hands. Happy, they do not stop chatting for five hours. He is a painter, he worked thirteen years in the Shenzhen museum before emigrating, five years ago, to Montreal. Emails, invitations but no additional meeting; She receives a painting, a nude of which she is the model without having posed … He has only a few weeks to live.
"The dramatist" is cleverly set up: the neighbors find him eccentric, he leaves home at 10.20 every day. They learn by an interview in the newspaper that he is a famous playwrighter. His life belonged to two women and their curses. His wife committed suicide at 10:20 and his first love lives in "the youngest city in China", which is why he accepted an interview hoping that she will be able and willing to find him.
We would love Xue Yiwei to be more translated and of course also in French. We admire the themes and the literary quality of the short stories that we read with great pleasure. The success of his novels and especially of the last two "Farewell from a shadow" (2013) and "Empty Nest" (2014), will allow us, perhaps, to have a more precise opinion on this novelist.
B.Mialaret
(1) Xue Yiwei and his War Stories. Chinese Literature and Culture, volume 5, december 2015.
(2) Darryl Sterk teaches translation at National Taiwan University and lives in Taipei. He is also the translator of "The man with the compound eyes" by Wu Ming Yi.
(3) Xue Yiwei, "Shenzheners," translated by Darryl Sterk. Linda Leith Publishing.Westmount, Quebec.Canada. 2016, 175 pages.