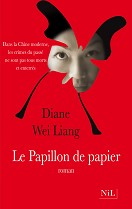 Originally published on Rue89, 29/5/2010.
A childhood in a work camp, in love and activist in Beijing University during the "events" in Tiananmen Square in 1989. After graduating in psychology, Diane Wei Liang left China for an American university and a management consultant career. Now a mother, she lives in London, and has published two detective novels; the second, " Paper Butterfly," has just been translated into French.
"A lake with no name: the English title of her memoirs, published in 2006, recalled the lake on the campus of Beijing University, a favorite spot for lovers, an area she visited possibly more during her college years than demonstrations in Tiananmen Square!
Her parents, civil servant and university teacher, communist party members are "re-educated" during the Cultural Revolution in a labor camp in a mountain area of Sichuan province. Victimized in school, her brilliant results allowed her to be accepted in 1978 in a high school in Beijing. Seven years later, nineteen years old, she joins Beijing University to study psychology.
A complicated love life, an impossible love, but also a pleasant picture of a student life.The events of May / June 1989 are told in an unemotional manner but more alive than  the much more ambitious book by Ma Jian.
A scholarship for a University in Virginia will allow her to leave China during the summer of 1989, her first husband will join her a few months later. She left him to study management at Pittsburgh, they will be divorced soon after.
Professor at the University of Minnesota, she met a German consultant whom she married in 1995. They live in London with their two children. Diane Wei Liang, during the last four years, has devoted her time to her children and to her books  published in twenty eight countries.
China, has she turned the page?
She gives this impression in her autobiography; moreover, she gave up her Chinese nationality; she writes and even dreams in English, she does not speak Mandarin to her children but she visits her father every year in Beijing and her novels are definitely… Chinese.
The first one, "The Eye of Jade", a title translated into French in a casual manner ("The Secret of Big Papa Wu ", ed. Nile), attracts more by the characters than by the detective story.
The Eye of Jade goes back to the period of the Cultural Revolution. Beijing is a key player in the novel (like Shanghai for Qiu Xiaolong). The characters are interesting and conflict between generations and the relationship between a mother and her two daughters are very well analysed. The Cultural Revolution still influences us, its destructive impact and topicality are underlined.
Diane Wei Liang created the character of Mei Wang, a young woman who, after several years in the Ministry of Security, created her own investigation office. She will look for an old jade carving stolen during the Cultural Revolution at the request of a great friend of her mother. Mei is rigid, highly moral, a bit sad, her love life is a disaster and a desert, but her friends and colleagues know that she can  be trusted contrary to her mother and sister.
The illness of her mother will bring around former allies and Mei must confess that it is difficult to expose a murderer who saved her family, a choice as difficult as that of her mother in the labor camp,  who in fact has chosen to sacrifice her husband to her two daughters.
Disturbing paper butterflies …
Her second novel allows Mei Wang to enter the world of a singer, a star, Kaili, who has disappeared. In a somewhat systematic lay out, we are told of the travels to Beijing of a former student, sentenced to nine years in a labor camp after the crackdown in Tiananmen Square.
Love letters bring us back on the Square and in Beijing in 1989. Mei will investigate in Dashanzhi, a dilapidated former industrial site (that will become a famous art center) and in the "hutongs", the traditional neighborhoods of Beijing. Migrant workers, old Mandchu people playing cards, the small people of Beijing; we think of Lao She (and this is no small compliment …).
Drugs, treason from long ago, kidnapping of a little girl and death of Kaili, an investigation that the former producer of Kaili would like to see terminated …
Mei Wang conducts her business with talent and is able to cooperate with some members of the police force; the return to Beijing of one of her former sweatharts hardly disturbs her… Let's dream a little, we would like her to meet the attractive Inspector Chen Cao, Qiu Xiaolong's hero!
Diane Wei Liang ► Le Papillon de Papier, translated from English by Odile Demange, ed. Nile, March 2010, 270 pages, 19 €.
► Diane Wei Liang, The Tiananmen Lovers, translated from English by Elise ARGAUD, ed. L'Aube, April 2006, 365 pages, 23 €.
Photo: Diane Wei Liang, by Jerry Bauer