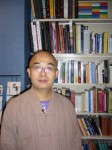 Following the likely intervention of Chancellor Angela Merkel, to whom he had written a letter, the writer Liao Yiwu was allowed to travel to Germany for the Frankfurt Book Fair and to meet his readers. His translator in France, Marie Holzman, was able to arrange his coming to Paris and led a discussion in the major bookshop The Phoenix.
A talented witness:
His job is to be the witness of those who can not manage to be heard. He collected three hundred testimonies, thirty have been translated into French and more into English, as has been mentioned three months ago. Lively interviews of individuals from all sectors of the "lowland" of society.
This technique of interviews gave us in the past some very interesting books: in 1986, "The Peking Man" (1) by Zhang Xinxin and Sang Ye, in 1997 " The Empire of Nonsense " (2) eight stories by the great writer Feng Jicai (thirteen in English) (3). More recently, Xinran has published "Chinoises" (4) ("The Good Women of China") and concerning the generation that is disappearing, "Memoire de Chine" (5) ("China Witness").
Liao Yiwu gives us portraits, may be less structured, and especially does not try to have them support an idea, a belief.
His book on the May 2008 earthquake in Sichuan (6), does not seek easy emotion even if he said: "I wanted to interview a woman who had lost a parent, she only could cry like Binu ( 7) along the Great Wall, but I recorded her tears as this was how she expressed herself, how she testified. "
An earthquake that raises many questions: This book, which will not be published in China, asks good questions but provides few answers. What is the impact of the large hydroelectric dam of Zipingpu, built on the rift line, in the starting of the earthquake? Why have so many schools collapsed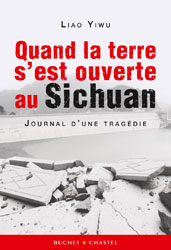 killing thousands of children? The cement was  "tofu" but why? He could not answer, because after leaving China for Germany, he promised "not to speak in a negative manner of the People's Republic of China" as mentioned by Pierre Haski.
But Liao Yiwu does not justify some opinions: in her foreword to "When the Earth has opened …" Marie Holzman said that he mocks prominent writers "calling them servants of the Party" . We did not get much more explanations but he stressed that the Tiananmen crackdown in 1989 forced the writers to take up a position: "Some were exiled, others have stopped writing, while others made compromises or tried to make money, and in any case, "underground" literature is very isolated. "
This position is understandable because Liao Yiwu lives in China, which is not the case of Ma Jian mentioning that the writers living in China were "collaborators".
Finally he was able to give us an idea of his talent as a musician, flutist, an instrument he learned to play in prison from a Han monk; this helped him to survive when he was released …
Bertrand Mialaret
Photo: B. Mialaret (at Librairie Le Phenix).
(1) "The Peking Man" by Zhang Xinxin and Sang Ye. Actes Sud, 1992.
(2) "L' Empire de l'Absurde" by Feng Jicai. Bleu de Chine 2001.
(3) "Voices from the Wirlwind" by Feng Jicai. Random House, 1991.
(4) "Chinoises" by Xinran. P. Picquier 2003.
(5) "Mémoire de Chine" by Xinran. P. Picquier 2010.
(6) "When the earth opened in Sichuan" by Liao Yiwu. Buchet Chastel, 2010.
(7) Reference to the myth of Meng, a book by Su Tong.