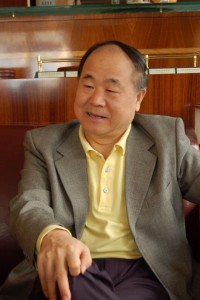 Originally published on Rue89, 24/6/2009.
The Chinese writer Mo Yan spent a week in France to present his books and his new novel to be releasd end of august.He met Rue89 with Bertrand Mialaret and Pierre Haski who had met him some years ago in Beijing. A meeting translated  by Chantal Chen- Andro, translator of many books by Mo Yan.
Mo Yan is 53 years old, he was born in a village near Gaomi in Shandong province, southeast of Beijing. This region is essential for his work, like Macondo for Garcia Marquez. Until 1995 he lived in Gaomi, where he has still his brother and father, but he is now in Beijing.
A peasant family, his mother breast fed him until very late during the starvation of the "Great Leap Forward (1958-1961). He will suffer from hunger and isolation because he had to leave school during the Cultural Revolution: his great uncle was a landowner, so he  is considered a "bad element". He takes care of animals, a buffalo with long hair, he will remember …
Recruited into the army despite the "bad class origin":
He works in a cotton factory and is a candidate for the army; he managed to get recruited in 1976 despite a "bad class origin". The army allows him to go to university; he served in the unit of cultural affairs and then as a teacher and finally left the service in 1997.
Like other writers who have made a military career ( Ha Jin or Yan Lianke), he "thanked the organization for allowing him to have time to write." "But I never wrote about the army. Maybe one day I will be leading a project on the military and war. "
He began publishing in 1981 after "The Crystal Radish" (Philippe Picquier), came the success of the "Clan of Sorghum" greatly supported by the film "Red Sorghum" by Zhang Yimou  which won an award in 1998 in the Berlin Festival .
The dictatorship of the party and the market :
Mo Yan has often said that politics is part of the topics of his novels, but that literature should not have a political responsibility as during the time of Mao Zedong. The fact that literature has become increasingly marginalized in society is a good sign.
"Mao had said politics come first, economy second; at present everything serves the economy. Formerly the people considered politics as important, now it is money. "
As he said to Pierre Haski a few years ago, in an interview published by Liberation:
"I am still a member of the Party, and I do not want to leave to create unnecessary problems, why big headlines in the press? "
But with Yan Lianke, he certainly is the strongest critic of the Party and local officials. His most striking book "The Republic of Wine" a great novel, published in China in 1993, had no problems."  Big Breasts and Wide Hips" , published in 2001, won a prize, was banned and re-released without cuts a few years later!
His latest book, "Life and death are wearing me out"  (translated in French as "La dure loi du Karma") goes much further: the heroes are a landowner murdered during the land reform and a farmer who refuses any form of collectivization. The landowner is a good man and  the God of the Underworld will allow him to be reborn as a donkey, cow, pig, dog, monkey and human … so he can participate in the history of his village, his family, his enemies …
Party members, apart from a Maoist who remains faithful to his beliefs, are portrayed as corrupt and only caring about their own interests that they support through violence, manipulation … We will review this important book during the month of August 2009.
Mo Yan, the success of a great writer:
Japanese Nobel laureate Oe Kensaburo said: "If I had to choose a Nobel, it would be Mo Yan. While he is well known outside of China, it is France that he is the most translated. Fifteen books have been published mainly by Editions du Seuil.
Mo Yan attributes this success to the quality of his translators, Chantal Chen Andro and Noel and Liliane Dutrait. In the United States, he is also well supported by Howard Goldblatt  who has translated six of his books. This long-term cooperation is a rare model; translators welcome the cooperation of the writer and the speed of his answers.
In China, Mo Yan said that "publishers are fighting for his signature" (the prints are on average 200,000 copies), the rights are auctioned, and changes in publishing firms are quite common.
He regretted the time spent with the media to promote books. "I do not see this as very important, after ten appointments, I stop". When you see his program this week, he made an exception for France!
Sometimes they say that Mo Yan is difficult, this is not the case. If you are worried about the "thickness" of his major novels, you can discover a superb collection of short stories "The  Iron Child " (ed. du Seuil, 2004)  and novels, thinner in number of pages but not in talent  ("The Joy", ed.P. Picquier , 2007  and"The master has more  and more humor, ed. du Seuil, 2005 …). We are now ready to read "Forty-one guns" (Le Seuil, 2008).
Is the Internet the future of literature?
China has the largest community in the world of Internet users, the  most visited literary sites with numerous writers under contract .
Mo Yan is cautious with the phenomenon: "There are very few good works, everyone can write," but he admits that new writers have emerged and that the most active writers are on the Net:
"It is true that there are fewer readers than in the 1980s, but those who publish on the Net  are also readers."
He knows some young writers on the Net who asked him to be introduced to "conventional" publishers because the Net does not pay well. Also on the Net, the legal protection is not, by far, stabilized and "wild" publishing is common.
The same goes with piracy: a book was published by "borrowing" his name as the author and that of his publisher … a lawsuit they won.
Among the bestselling authors of the younger generation, he met Han Han and gently mocks the "literary idols," the phenomenon of "stardom" and their "groupies." But the success of works by Han Han, Guo Jingming and others is quite spectacular.
Some readers complain that Mo Yan does not write about youth and the urban middle class of contemporary China. "It's true, I do not write about today's youth, perhaps because I do not understand them very well. I am a bit buried in the past and in my memories. Maybe if in twenty years I still write, I will turn to the present. "
In France, his week's program is quite busy with a meeting in Aix en Provence, hosted by Noel and Liliane Dutrait, a meeting with readers at the Phoenix Bookstore in Paris…
Bertrand Mialaret
Photo: Mo Yan, Wednesday, June 23, 2009 in Paris. (P. Haski / Rue89)