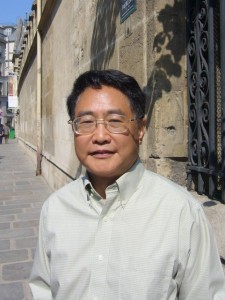 We often spoke of Qiu Xiaolong, a good writer and a pleasant character. His latest novel "Blue Dragon, White Tiger " is a real success, a somewhat special investigation by Inspector Chen Cao as inspired by recent political events in China including the Bo Xilai case, a "red prince " who has just been sentenced to life in prison .
Qiu Xiaolong will soon be in Paris to present his novel, a book which like the previous is first published in France, a tribute to his readers but also to the efficiency of his publisher Liana Levi and her team. He will attend the Book Fair on March 21 but, of course, not as a member of the Shanghai delegation, the city which is the guest of honor of the show.
He was born in Shanghai, but now an American citizen, he lives in St. Louis where he is a professor, poet, novelist, author of crime stories but also of outstanding short stories ( "City of the red dust ").
Inspector Chen in danger:
It was surprising that Inspector Chen, the hero of his nine mystery novels, always manages to end successfully his investigations despite the power of the Party and of corruption. In this latest novel, he is really in danger because "the system has no place for a cop who puts justice above the interests of the Party. It is a miracle that I survived so long "
He is removed from office with a brilliant promotion, without any power. But above all, people seek to neutralize and discredit him. He does not understand who wants to kill him. To protect himself, he leaves for Suzhou, one hour away from Shanghai, to perform some improvements on the tomb of his father. He can only rely on very close friends whom we have known for a long time. He also exchanges information with Qian, a passionate with Suzhou opera and the mistress of an important official..
Bo Xilai, a red prince, a neo- Maoist, the inspiration of the novel:
Chen Cao will realize that the character in the center is a British businessman, close to Lai, the party secretary of Shanghai and especially to Kai, his wife. Lai / Bo Xilai, is a red prince, his father Bo Yibo was a close associate of Mao before being dismissed during the Cultural Revolution.
Party chief in Chongqing, a city of around 30 million inhabitants, Bo Xilai developed an operation against organized crime, 5,000 people were arrested, not always rightly , and their property confiscated. It became also appropriate to sing "red" songs, songs of the Maoist period. This populist policy was meant to promote Bo Xilai up to the top of the state before his fall that followed that of his wife Gu Kailai.
Rue89 told you repeatedly about this case. Qiu Xiaolong is sensitive because he remembers his harassed family during the Cultural Revolution and the fact that " for the younger generation (it is) as a mythology which fell into oblivion. In textbooks, there is no mention anywhere of the atrocities committed under Mao government".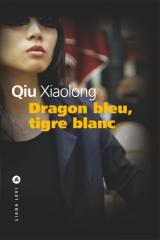 What is important is not the "horror of the Bo couple, but the social, political and cultural context in which such personalities appear. I try to describe the one-party system with its authority and absolute corruption. If China does not change, other Bo will arise. "
An anthology of recent corruption cases:
Many episodes of the novel and some characters refer to a succession of cases of corruption during the past three years. One of the most spectacular: five thousand dead pigs floating on the Hangpou river which flows through Shanghai. In the past, dead pigs finished as sausages. The scandal of rotted sausages pushed farmers and merchants to throw the dead pigs into the river rather than to bury them !
Much more dramatic, the death of 35 people in an accident of the high speed train. Censorship would not allow to mention the event, or the incredible inability of the rescue teams. High speed trains, the pride of the Chinese development, were threatened by failure, irresponsible bureaucracy and corruption. The novel evokes the overcharging by a subcontractor, linked to the main characters in the book but does not address security issues. The Minister of Railways was sacked; considerable bribes allowed him to maintain a harem of ten mistresses ! …
A key figure in the scandal does not appear in the novel: Wang Lijun, the police chief of Chongqing and the right arm of Bo Xilai who, threatened by his boss, tried to flee to the United States consulate. But as Inspector Chen says "as a cop, I have obligations, no use to deny it. I cannot put them aside. As a member of the Shanghai police, it is inconceivable for me to take refuge at the U.S. consulate. "
As in his previous novel " Cyber China ", our author emphasizes the critical role of the Internet. It is a hacker whom he has assisted, who will ultimately allow him to save his head. He also shows that social networks are extremely efficient vehicles for denunciation of corruption.
One can appreciate perhaps more the novel knowing nothing about the Bo Xilai case. This book not only impresses with its plot, its twists but also with some of its characters. This is the case with Qian, passionate with Suzhou opera, who asked Chen to investigate on a mistress of her lover. She talks about the second wives of all these officials, these " ernais " with flats and monies and who often enjoy a precarious situation; their number runs into several millions …
Suzhou, a civilized city :
After all these corruption cases, one can feel sick. But Chen to protect himself fled to Suzhou, one of the most pleasant cities in China. Chen can think of his father, of the limits of his profession; he is more critical, less idealistic …
It is in the garden of the Lion Forest, one of the wonderful gardens classified as World Heritage by UNESCO, that a young lady will bring to Chen decisive elements. Food is also an essential heritage and descriptions by Chen of colors, smells, textures of the Suzhou kitchen are irresistible and mouth watering.
Suzhou is also the city of the Kunqu opera, born in the 14th century and which almost disappeared during the Cultural Revolution. It is still existing in theaters of a few Chinese cities and plays like "The Peony Pavilion" are unforgettable.
Qiu Xiaolong is also a poet and he uses his books to introduce Chinese poetry and his own poems . Many poems are listed but I cannot resist the pleasure to quote his favorite poet, Li Shangyin ( 813-858 ), translated by Qiu Xiaolong.
"It is hard to meet
but hard to part too,
the east wind languid, hundred of flowers wasted,
A spring silkworm may not stop spinning
silk untill death. A candle's tears dry
only when it is burned down to ashes.
In the morning's bronze mirror, you worry
about the change in your hair,
and then you feel the moonlight cold,
reading alone in the night.
Mount Penglai, so celebrated in fairy tales,
cannot be located far away:
O Bluebird, please go there kindly,
and take a look for me".
Bertrand Mialaret
Qiu Xiaolong , " Blue Dragon, White Tiger ", translated into French by Adelaide Pralon . Editions Liana Levi , March 2014 , 304 pages , 19 euros.