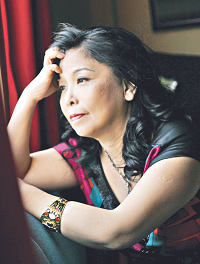 Xu Xiaobin is a famous writer in China, three novels have been translated into English. A romantic style but sometimes including some social reality.
"Crystal Wedding" fifteen years of the life of a couple:
Yang Tianyi, the heroin is, as says the author, a woman, a pretty ordinary intellectual and she tells us the fifteen years (1984-1999) between her marriage and her divorce, her relations with her husband and several unsuccessful love affairs, her failure as a mother such as her relationship with her own mother. Her professional success as a writer and lecturer does not hide her distaste for literary and audiovisual coteries.
She is a romantic heroine, "she now realized with some desperation, that her whole being, her life, her appearance, her everything has been ruled by her emotions. When she was loved, she blossomed, she was beautiful. But without love, she withered "(p.277).
She married at age 31; she met Lian, a low level official whose aspirations are very different from hers. She thought her marriage would allow her to get rid of her family, would restore her youth. This did not happen, her in-laws are much worse!
Both of them have no sexual experience, the difficult consummation of the marriage will be followed immediately by a pregnancy and then by a very difficult birth; and she did not really want to have a child …
She does not hide what is happening, "Tianyi had been determined to go into wedding with her eyes open. That means accepting that love and marriage were not the same thing at all" (p.35). The couple's sex life is non-existent, she is pregnant again, will abort and they will sleep apart.
She thinks that she falls in love several times but "She was too much of an esthete, constructing a perfect love in her imagination; in reality, she completely lacked the skills and the courage to fall in love", moreover, "she couldn't bring herself to make the first move and so she frequently missed her chance "(p.47).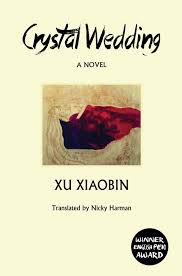 On top, she does not want to understand that "there was not a man in this world patient enough to have a platonic relationship with her. Worse, none of them had the nerve to bring this goddess down from her pedestal and turn her into a real woman "(p.99).
Several affairs with men are failures, she became sexually frustrated; porn tapes, masturbation and female partners are no solutions; the best way to sublimate her desires is to write novels and scenarios …
Complex and often interesting characters:
Her husband will develop out of government service, business will bring him money and an openness that he had not. He is not jealous of the literary successes of his wife, it is another world. But he is still dominated by his mother and does not know how to protect his wife who is now the bread earner after his professional problems. She herself suffered from poor relationship with her mother who did not love her, now she must mother her son and her husband and that is intolerable!
She is not interested in her son, a beautiful baby who should have made her happy and who is hardly popular with grandparents. Growing up, he will have a very conflictual relationship with his father. Surprisingly, the role of Tianyi as a mother is hardly analysed and yet the boy creates problems, steals from his mother and will be the direct cause of his parents' divorce.
Her "great" love is Zheng, an idealistic intellectual for whom she has no desire. This relationship was cut short, and two months later, Zheng marries. The events of Tiananmen Square will once again bring them together …
Politics and censorship:
Xu Xiaobin, like her heroine, is not interested in politics and yet the novel will not be published in China. The book would be too frank, too explicit about sexual issues. One may wonder, is it reality or is it a marketing argument? For cons, the reminders of Tiananmen Square, although half-hearted, are not acceptable to censorship. On the night of June 5, Tianyi is looking for Zheng and meets his mother. Zheng was sentenced to thirteen years in prison.
Comments by the author are very direct: "The Chinese were so apathic that they had simply decided not to pass judgment, to forget the desastrous decade of the Cultural Revolution. It had destroyed their lives, but they innocently imagined that this history would never be repeated. Yet It was repeated in 1989, on grounds already soaked with blood, Just because the perpetrors had escaped justice the first time round "(p.229).
Tianyi is also the spokesman of Xu Xiaobin when she sharply criticized the literary circles and the various groups competing for a presence in the media. Her writing work is a success and her screenplays for television series are very well paid, but she fails to be a major player, she is much too honest.
We are told of "chameleon" writers who flatter public taste and only care about their own careers by using their relationships. She even mentions a book "Old City" deemed pornographic, which creates problems for Tianyi; we think of course of Jia Pingwa, perhaps wrongly!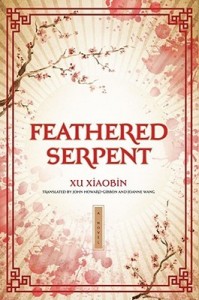 More surprising is the Tianyi speaking tour in the US where she meets again Zheng who has aged and lives with difficulty in exile. Her comments on the United States are enthusiastic: "Everything she had been told since she was a child was a lie: the two- thirds of the world who lived their lives in misery were not Americans but her own country people. The ideal country she had dreamed of since she was a child was right here "(p.255).
"Crystal Wedding" worth reading:
One is happily surprised when this book is read after "Feathered Serpent," her most famous novel. "Crystal Wedding" is written in a simple language, direct, without a lot of descriptions or especially numerous characters. No unnecessary digressions apart the episode of the uncle from Taiwan; the chronology is not too complex and the composition is very elaborate.
A pleasant translation, one more success for Nicky Harman who played an important role in the publication and promotion of this book. One can also read on the essential site www.paper-republic.org a short story by Xu Xiaobin "Snow" (translated by Nicky Harman and Natasha Bruce) which, in style, is a sort of introduction to this novel.
Xu Xiaobin, romance but not only:

She was born in 1953 in Beijing in a large family of intellectuals. Her father is a brilliant academic who loves her; with her mother, relations are more difficult. Very successful studies interrupted by the Cultural Revolution; nine years in a farm in the North and in a factory. She managed to go to the University of Central Finance and began to publish in 1981.
Her criticisms of literary cliques have somewhat marginalized her but she won the first Lu Xun prize for literature and her novel "Feathered Serpent" was a success both in China and in the English translation (2). Many novels and stories, but she mostly writes scripts for television series that have met success.
"Feathered Serpent" to my opinion is very disappointing: five generations in the twentieth century in China, a traditional approach in the Chinese novel but no sense of history or of social developments; some fantasy to add spice; it is a "soap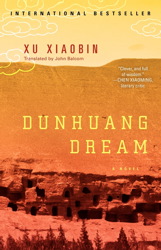 opera". Numerous flashbacks but as she has (too) many characters and fears that the reader is lost, she feels obliged to reintroduce her characters …
Romantic and sentimental with many relatively poor descriptions; women are always sublime and all in the same way! Some comments are really unattractive and political allusions with no reach and quite acceptable for censorship.
By cons, we read "Dunhuang Dreams" (3) with great pleasure: near Dunhuang, the Buddhist Mogao grottoes in Gansu province, on the sidelines of the Gobi desert, were a place of worship of great importance on the Silk Road. Much has been built during the Tang Dynasty and the set of frescoes and statues is exceptional.
The novel takes us into these caves, makes us live the search of a portrait of Laksmi; many are forged but also criminal attempts of recovery of the frescoes with resin.
Xingxing, the heroïn complains of her monotonous life with Musheng, a professor of management. She's a painter, studying frescoes and making copies of the frescoes of "Paradise".
Zhang Shu has just lost his wife who was cheating on him, he fled to Dunhuang, where he met Xingxing. A young medical student, Xiang Wuye will complicate their relationship, as well as two Uyghur girls, the daughters of a guardian of the caves.
We are passionately immersed in the history of the caves and of Buddhism with Tibetan and Uyghur traditions. With such a wonderful setting, efforts would have been necessary not to write a convincing novel; we are won over…
Bertrand Mialaret
(1) Xu Xiaobin, "Crystal Wedding", translated by Nicky Harman; Balestier Press, London, 2016, 360 pages.
(2) Xu Xiaobin, "Feathered Serpent", translated by John Howard-Gibbon and Joanne Wang. Atria International (Simon and Schuster NY). 2009, 360 pages.
(3) Xu Xiaobin, "Dunhuang Dreams", Panda Books, 1998, 200 pages.
(4) Xu Xiaobin "Dunhuang Dreams", translated by John Balcom; Atria Books, 2011. 208 pages.