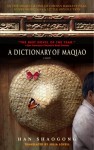 As mentioned in an article for Rue89, "A Dictionary of Maqiao" just won the Newman prize in the United States.
This surprising book led to some turmoil when it was published in China in 1996 (1). Two Chinese critics explained that this dictionary is a plagiarism of "The Khazar Dictionary" by the Serbo-Croatian writer Milorad Pavic (born 1925), a book published in 1985 and translated into Chinese ..
The controversy in the press is severe, Han Shaogong lodged a complaint for slander in  front of the court in Haikou (Hainan Island in the extreme southern part of China) where he lives. The court's impartiality is questioned but Han Shaogong obtained damages. Many writers, among whom Fang Fang, have supported him.
The book is under the sunlights and is awarded several prizes in Shanghai and Taiwan. While the author is known in France through the efforts of Annie Curien the translator and P. Picquier the publisher, in English, only a collection of short stories has been published in Hong Kong.
But in 2003, the "Dictionary" is released by the presses of Columbia University, translated by Julia Lovell, a professor at the University of London (2). The reception is excellent, which is a little surprising as it is a rather original book: more than a hundred words, which have a particular interest in the village of Maqiao are listed, graphically specifying whether their use is limited or not to Maqiao. These headwords are developed by short essays of a few paragraphs to several pages.
The topics are many: historical events and what remains in popular memory, legends and legendary characters, manners and  local customs, often in a parodic style or in a manner close to traditional fantastic stories. Historical and literary references are very numerous, serious developments live with very entertaining pages.
Sometimes we can be a little embarrassed by the lack of chronology because the book is not limited to the period of the "Cultural Revolution ", and similarly, the narrator is not always positioned very clearly.
Some characters are met several times, this gives some unity to this set which is not really a novel.The author admits that he does not like main lines, lay outs, well organized narratives.This is also shown in his short stories and he has never written a real novel.
He gave up the "modern" techniques of his first books, the texts are simple and look for suggestive details of an individual or a specific group of people of this village in northeastern Hunan.
The ambition is wider: time and language do not have in Maqiao the value they may have in other regions; these topics are often developed by the author who continues to search for his roots …
Bertrand Mialaret
(1) Analyzed by Zhang Yinde in a 2002 article for "Etudes Chinoises".
(2) "A Dictionary of Maqiao", translated by Julia Lovell. University Columbia Press 2003