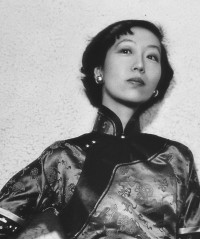 In Shanghai, in 1943, a young woman of 23 years old is becoming immensely famous by publishing in a popular magazine, a serie of stylish short stories, sophisticated, tragic, sentimental … Perhaps, at that time, for readers a way out of bombing, thousands of victims and the Japanese occupation.
She is a star by her beauty and natural elegance. The quality, accuracy, sometimes the cruelty of her writing, makes her short stories the finest examples of this difficult art, in a very different style from Lu Xun, the master in the field.
A youth and a private life…tragic
Her family is famous: her father is a caricature, an opium addict, manipulated by a concubine; her mother spends more time abroad than in China and is a free woman but extremely jealous of her daughter.
All this youth and her stay in Hong Kong University, are developed in two novels written directly in English, "The fall of the pagoda" and "The book of change".The most interesting text, written in Chinese and not translated, "Little Reunion",that she nearly destroyed several times, evokes her passion for Hu Lancheng.This is a dubious character who became minister of propaganda of the pro-Japanese government in Wuhan. They married in 1944, he openly deceived her and he had to hide after the defeat of Japan; they divorced in 1947.
The seizure of power by Mao's Communists in 1949, made her position uncomfortable but she was not in trouble. She moved to Hong Kong during spring 1952 and will work as a translator for the US Information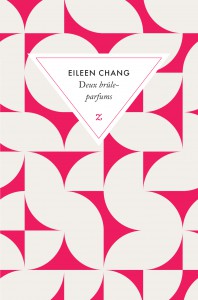 Service.She publishes in English " The rice sprout song" (translated into French by Calmann-Levy in 1958), a good novel about the limits of the agrarian reform and the persistence of absurdities and abuses of power. In 1955, "The naked earth," a novel written first in Chinese and that she translated into English; a novel that should be republished by NT Review Books in a few weeks.
Finally some famous short stories are translated
Eight stories have been published in France from 1995 to 2008. And then nothing more while the number of translations is increasing in the Anglophone world. Therefore, it is gratifying that the Editions Zulma publish again in 2014 and 2015, "Love in a Fallen City" as well as three new translations of famous short stories " Steamed osmanthus flower" and " Aloeswood incense ".
One should note that all translations published in French were signed by Emmanuelle Pechenart who, for years, is "defending" Eileen Chang.
"Love in a Fallen City" is a 1943 short story: Liusu has been divorced for eight years; subject to her family, she meets a rich playboy educated abroad. They are together in Hong Kong, hesitant about the nature of their relationship and they return to Shanghai.
"A woman who was tricked by a man deserved to die, while a woman who tricked a man was a whore; if a woman tried to trick a man but fails and then was tricked by him that was whoredom  twice over".
He asks her to return to Hong Kong, what she does under pressure from her family and becomes his mistress. He has to leave for a long stay in England, but the Japanese invasion of December 1941 solved their hesitations and these two selfish characters decide to love each other and get married …
"Steamed osmanthus flower" evokes the life of the servant of a foreigner. She runs her family, neutralizes her mother and does what she wants with her man, a tailor, but not always with her son. An every day life between friends and neighbours in the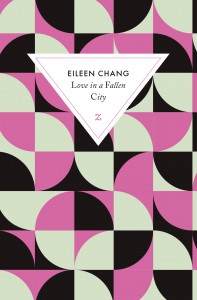 building; an acid critique of her boss, Mr. Garter, a miserly Englishman and whose girlfriends are mostly despicable. Life as it is, not too hard, not really sad as in other short stories, despite the political circumstances.
"Aloes wood incense" is the first of "Two Burners". This is a cynical picture of the cosmopolitan Hong Kong underlining the weight and immorality of social conventions. The characters live outside of the going history but with a complexity that is rarely found in Chinese literature.
Wei Lung obtains from an aunt aged fifty, a wealthy businessman widow, to continue her studies in Hong Kong while her parents return to Shanghai. The aunt, Ms. Liang, usesWei Lung to attract young people that she takes in her nets. Georgie Ts'iao, a mixed blood, knows how to resist her, he is part of the elite of good for nothing … Wei Lung is in love but he has not a penny, and his father does not want to fund … Finally they marry and Georgie moves to Madame Liang.
"From then on, it was as if Wei Lung has been sold to Madame Liang and Georgie Ts'iao, Wei Lung was busy whole day long getting money for Georgie and people for Madame Liang".
"Second burner" is a harsh critique of the colonial life style. Mrs. Mitchell has three daughters; the eldest, Millicent, divorced after a few weeks of marriage."My husband loved me but he treated me … the way he treated me … that being beastly to me … he had a degrading behavior".
Her sister, Susie, is 21 years old but she is a child, she will marry Roger Empton, a university professor of forty. Susie runs away during her wedding night; all English families are informed. Roger must resign but after fifteen years repeating the same course without any research; he expects difficulties in England. He also learns that the husband of Millicent who could not find a job committed suicide …
Men want that the image of the whites is not impaired. Sexual repression is criticized so as the kind of puritan education given by Ms. Mitchell to her daughters. As said by Eileen Chang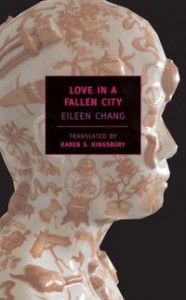 "Most young Chinese are aware very young … our novels are more explicit than yours."
Other short stories in French and English
In 2016, Zulma will publish revised translations of two well-known short stories: "The Golden Cangue" which, for the famous critic C.T. Hsia, is the most remarkable short story of all Chinese literature but also the most bitter and the most depressing.
In "Red Rose, White Rose," the loves of Zhongbao ranging from Western girls to the most typical Chinese; there were two women in his life, one was his white rose, the innocent wife, the other his red rose, the passionate lover.
The release in 2007 of the Ang Lee's film "Lust caution" which erotic scenes caused a scandal, was accompanied by the translation into French, published by Robert Laffont, of four short stories among which "Love, lust, betrayal," the text which inspired the film. Written in 1950, corrected several times, the short story is finally published in 1978 and, without fear of censorship, evokes the historical context.
This collection also contains a 1943 short story, "The meridian of the heart", which makes us live a violent oedipal crisis between daughter, mother and father. "They were two women who loved the same man … She had committed this crime and has gradually killed, torn to pieces, the love between her parents, has worked methodically the butchering of love".
Most of these stories have also been translated into English but note two beautiful texts not translated into French: "Traces of Love" (1945) (Renditions Paperbacks, 2000).
The woman of Mi Raozheng, of whom he has been separated for a long time, is dying; these marital difficulties are forgotten and become compassion that does not understand Dunfeng, the woman with whom he lives and tries to protect herself by a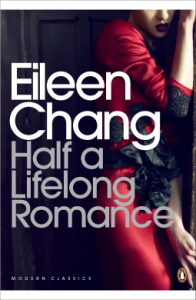 cynical approach of their relationship.
"Jasmine tea," published in 2007 (in the collection "Love in a Fallen City") is a text influenced by Freudian themes. Nie Chuangqing is a young student; his mother died and had been courted by Zihe Zhang, the professor of the boy and the father of his girl friend Yan Danzhu. He dreams himself as the child of his mother and of Zhang Zihe, which would allow him to eliminate Danzhu …
Novels to be translated
Well represented for short stories, the French edition is non existent for her novels whether the two autobiographical novels already mentioned or for "Little Reunion". Penguin also published in 2014, her most popular novel, "Half a life long romance." These are major texts which should be translated!
In 1955, Eileen Chang left Hong Kong for the United States where she desperately tried to interest publishers and public to her books, writing, republishing, translating … She leads an increasingly lonely life, and became a Garbo of Literature.
A life so recluse that she was found dead in her apartment in Los Angeles in September 1995, probably a week after her death.Yet in Taiwan and Hong Kong, her popularity increased and she was adopted as a cult writer by the younger generation in China, as the star she was.
Bertrand Mialaret
Eileen Chang, "Love in a Fallen City", translated into French by Emmanuelle Pechenart. Zulma, 2014. € 16.50.
Eileen Chang, "Two incense burners", translated into French by Emmanuelle Pechenart. Zulma, 2015- € 17.50.
Eileen Chang, "Traces of love", edited by Eva Hung. Renditions Paperback 2000.
Eileen Chang, "Love in a fallen city", translated by Karen S. Kingsbury. New York Review Books, 2007.