Originally published on Rue89-02/22/2008 –
No, despite its title, "A Concise Chinese-English dictionary for lovers",  is not a book to offer for Valentine's Day or a version, for linguists, of the Kama Sutra, but the latest book by the Chinese novelist Guo Xiaolu, whom we could meet in Paris.
Guo Xiaolu  was born thirty-five years ago in a small harbour in southern China. Her family, like many others, was torn apart by the Cultural Revolution: The father, a painter, was imprisoned and the grandfather was pushed to suicide . Her mother working in a ballet company, left her to her grandmother. She was eight years old when her parents could come to fetch her and send her to school. The relationship with her mother is bad, she walks away and finished her studies in 2000 at the Film Academy in Beijing.
She wrote screenplays, working with directors and in 1999 published her first book.  An woman, angry with the local machismo, who obtains a scholarship to study  documentary film in London. She is the author of several films mainly documentary, who have been successfully presented in several festivals. Filmmaking for her is a very important aspect of her life. She finally found publishers in France and Great Britain for "Village of Stone" which nobody wanted to publish in China.
"Village of Stone" :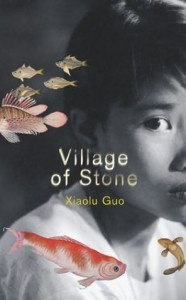 It is an autobiographical novel that mixes the life of the heroine and her lover Zhuzi in a high rise building in Beijing and her childhood memories in a small fishing harbour in southern China. Receiving by post a dried eel, recalls her memories of the China Sea! The girl lost her mother at birth, her father left the village, she lived with her grandparents who do not speak to each other. After the suicide of her grandfather, a rape, a love story and an abortion … No, the tone is not dramatic, optimism and energy are still present even if "the shame is the only feeling that I 've experienced as a kid and it haunted me throughout my youth … "
Men in Guo's books are somewhat transparent "… Zhuzi thinks that work is a stupid activity. It is not too serious because after all, he is not too bad as a boy … my story does not concern him, he knows nothing about me … our bodies meet every day under the duvet but our memories never mix".
Her father meets her again a few weeks before he dies, the page is turned and after a visit to Shitouzen (the small harbour) with Zhuzi, a common future is possible. This is a book as a therapy related to her childhood and her tense relationship with her mother. It's a  book about new benchmarks in a fast changing society. The political or economic context is not present even if the life and the culture of the village are described with love and nostalgia with its "storms, typhoons and wrecks rejected by the sea."
"A Concise Chinese-English dictionary for lovers"
This is  a book about learning English in London, a photograph of culture shocks around the discovery of love and sexuality. A Chinese girl of twenty tells us about her progress in English with lots of humor and as short chapters introduced by the definition of a word in a dictionary. All this written in "basic" English, sometimes incorrect or too simple, which has certainly been a problem for the translator.
Loneliness pushes her in the arms and then in the bed of a bisexual and vegetarian activist turned sculptor, but also delivery boy to pay the bills. He is twice her age and their expectations are very different.
For her, turned towards the future and with a great practical sense, the family, like for most Chinese, is the center of everything. "Will he make a possible husband, he will have a stable income and will he be able to buy a house for his family." For him, having fled a family of four women in Wales, his independence, his day to day life are essential.
The discovery of sexuality reinforces her fusional tendencies, "I build a Chinese wall around you". He tries to push her away in a trip to Europe which will lead to a few new contacts.
Back in London, the problems of communication does not improve between the mismatched couple: she is dynamic and with a fighting spirit, he wants to live the present moment and to keep his privacy which she thinks cannot exist in a love relationship or a family. In Chinese, love is not a past or future, it is a present, a situation; it is the existence that links together past and future ".
Love is not always easy, in Chinese saying goes," you can not imagine that the two ends of a sugar cane are both as sweet. " In fact, his main problem is that "he lets time to elapse, he does not want to be in the race to be sure not to risk losing in the end." As for her, her visa in London only last a year …
Questions to Guo Xiaolu:
Q- The cinema is very important for you?
Yes, I studied and worked nine years in China in this sector, then two years in England and in the last five years I have directed six films and some of the DVDs will soon be marketed in France. I finance my films with the royalties from the books, the "Dictionary" has been translated into twenty-four languages. I'm not complaining, I did not get help from anybody, but for the movies and their distribution it is much more difficult.
Q- You write: "we are told that we are proud of our ancient history, but the next day we see  that many fine old temples are demolished" …
The damage is there, China looks like America; what remains genuine is the South West where ethnic minorities live. Myself I am, by my grandmother, from Hui origin, a Muslim minority, who, in a distant past, came from Central Asia.
I do not belong to the Han majority, my education is a classical education in a communist country,; I like China as it should be loved but I'm an intellectual and I want to live independently.
Q- You do not seem interested in politics …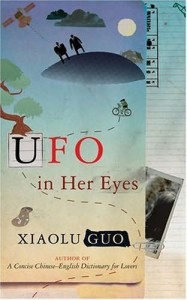 I do not want to be involved even if the topics of some of my films are political. I'm more mature, I feel the responsibility and the mission to testify in my books and movies. The novel I just finished writing in English and which will be released in London next year, will be entitled "UFO in Her Eyes. It's a bit of science fiction, it happens in a backward village and for the UFOs (unidentified flying object) you can probably guess, but it is a much more political novel.
The book  which has just been translated from Chinese into English "Twenty fragments of a ravenous youth" is very different, it is a novel I wrote  at eighteen years and which has been published in China five years later; a novel about an angry young woman who  focuses on her personal emotions and rejects a materialistic approach.
Q- In this book you protest against the male chauvinism …
No, I am not a feminist in the usual sense, I see myself more as a bit of an anarchist and anarchist does not even want to be a feminist. How can a personal voice be heard when it does not express the community's problems, this is one of the problems in China. Similarly, young writers, especially men, have feelings and a very nationalistic tone, which they do not even realize; this may be very embarrassing especially when it comes to certain "sensitive" topics.
It is clear that history can possibly be rewritten, this depresses me and makes me angry, consequently, I sometimes feel isolated. I act in a very individualistic manner and in complete independence, but this does not mean that I do not love my country!
Q- Which language in your dreams ?
Very topical issue for me because I just wrote a short story or a woman who dreams of her lover and I wondered in which language and for myself I can not answer the question. It feels a little scary for a writer because the language is essential. I do not know if I am a writer in my dreams.
Writing in a foreign language may eventually affect your personality; this is especially true for writers who do not return regularly in China. I am not of the generation of writers like Ha Jin who underlines this problem a lot. This generation has suffered from the Cultural Revolution and has dramatic memories of life in China.
For younger people this is not the same, they live between China and the West, freedom is a reality. But I also feel very Chinese, I do not think I will write in the future always in English, the book that I am now beginning to write will be in Chinese.
Bertrand Mialaret