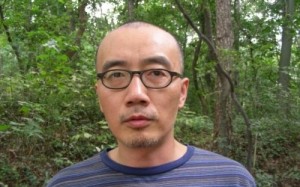 Han Dong is almost unknown in France, his books are not yet translated. This is not the case in the UK because of the efforts of a well-known translator Nicky Harman, who was kind enough to answer our many questions about this writer.
1 /The father, a writer, a family "sent to the countryside":
Han Dong was born in Nanjing in 1961, he was the son of Han Jianguo (1930-1979), better known by the name of Fang Zhi, and for his short stories during the "Hundred Flowers" in 1957.Tao Peiyi is the main character of the Tao family, "sent to the countryside" in 1969. The life of this family in the small village of Sanyu, near Lake Honze is the subject of Han Dong's first novel "Banished", translated by Nicky Harman who managed to have the book published by the University Press of Hawa'i (2009 ).
Han Dong argues that this is a work of pure fiction. We are not obliged to believe him as the book follows the life of the author. One could speak of "reportage literature" because the writer goes in all the practical details of the installation of the family in the village, the construction of a house, a garden, a small poultry … But this book, unlike Liu Binyan for example, is not a literature of denunciation. The approach is much more subtle: the Maoist credo is at fault, it is not  the Tao family learning from the farmers but rather the reverse.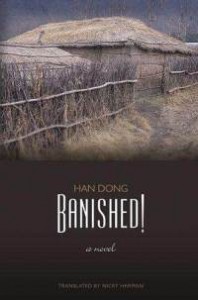 The village is very backward and efforts by Tao Peiyi and the grandfather to integrate, despite their political will to do so, are not always successful. Tao Peiyi and his wife, who acts as a "barefoot doctor" seek to educate the villagers in many areas; the local leader of the Party opposes and Tao Peiyi is expelled from the Party for trying an "usurpation of  power "at the village level
A detached tone, without emotion or the will to dramatize, quite a lot of humor and sympathy for his characters, these are the qualities of this book, but I do not dare to write literary qualities as Han Dong has not really the talent to transform reality that can be found in Mo Yan or Yan Lianke …
Unlike the character Tao Peiyi, Han Dong is not trying to be politically correct. Tao Peiyi calls for immersion in village life and literature to the service of politics; it is an approach that the young Tao (p. 202) as well as Han Dong reject. But for the young Tao "in his dreams, he has only one home and this was the mud-brick house designed and built by his father in Sanyu." (P.238).
Another book is a result of this life in Sanyu "Screwed, metamorphosis of an educated youth" Some chapters were translated by Nicky Harman (1). The theme of the book is even announced in "Banished" (p.127): the young Tao sees a poster by the military which accuses a young "sent to the countryside": "He has raped a cow from the brigade and has left her too prostrated to do the spring plowing. This was the busy season for the farmers and the urbling has sabotaged their work "(p.127).
2/ Poetry and the group "Brake":
Han Dong started writing poetry and in 1982, he publishes a magazine "Hometown". Then he was the chief editor of the journal Tamen which appeared intermittently from 1985 to 1995 and was revived in 2002. The group "duanlie" (fracture) had a great impact on him: in May 1998, Zhu Wen and Han Dong sent a questionnaire to many writers asking their opinions about well known writers, teachers, literary critics … The responses were very negative and asked for action. As said by Zhu Wen (2): "What we were doing was distancing ourselves from the establishment. Toward the end of the 90s many of us were gaining a reputation, and it was as if all those establishment figures were waiving to us "Come join us, come join us!" We could'nt stomach that thought and decided that we had to cut off ourselves from them entirely"
Consequences were long lasting, Zhu Wen stopped writing and Han Dong, who could have chosen a more lucrative development than literature, remained quietly in Nanjing outside the official literary circles, while maintaining close ties with Zhu Wen and Ou Ning.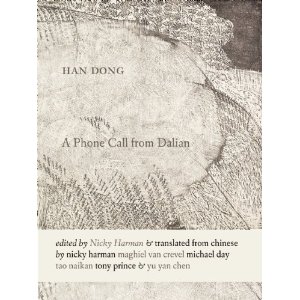 His first poems were in the vein of "Misty Poets" and Yang Lian, but in 1982, he adopted a simple and ironic style. His poetry is popular in China and a book, which has just been published, shows us their quality: "A phone call from Dalian" (3). The poetry of Han Dong is simple with every day words and as said by Maghiel van Crevel "the power of Han Dong's poetry lies not just in the rejection of formal or high registers … his word choice tallies well with the form of his poetry: free verse with short lines … "
Han Dong is not trying to be noble or poetic: "I write poetry just as a roof tiler gives no thought to who lives in the house whose roof  he is covering … Poetry is not subordinate to purposes beyond itself". He rejects the historical tradition or social responsibility.
Rather than the well-known poem "Of White Goose Pagoda", we prefer "The chicken seller" (p.29
He's got the knack for killing chickens quick, so
He became a chicken seller, that way
He doesn't need to kill people. Even though he acts
Calm and gentle, and never beats his wife
Taking off his wife's clothes is just like plucking a chicken
Similar skills always overlap, just as
Cruelty and kindness are two sides of the same coin
He plucks, and she leisurely takes the money
And I feel that therein lies a kind of evil sweetness.
Finally, in "Ten maxims of poetry", published on the website www.poetryinternationalweb.net he drives again the point: "Poetry is distinct from knowledge: it is the province of those in whom innocence has not yet vanished. Writers and readers communicate on the basis of innocence not knowledge. A good writer has no more right to speak about poetry than a good reader: the two are well matched in terms of the quality of their feelings. A good reader is definitely superior to an inferior writer. "
3 / The short stories supported by his translator: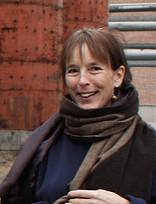 Nicky Harman is the author of numerous translations of books that have been successful (Xinran, Hong Yin, Yan Geling, Zhang Ling …), she plays an important role in London promoting Chinese literature and training young translators. When Han Dong came to the UK, she organized discussions with other authors. She is gradually translating some of his short stories which are very imaginative.
"This Moron is dead" has just been published in a good collection of short stories "Shi Sheng. Short stories from urban China "(4) Ten short stories with ten Chinese cities as a backdrop that are written by writers born in the 1960s and 1970s.
Another short story "Brand New World" was translated by Nicky Harman and Helen Wang and published on the site www.paper-republic.org (03/28/2012) to which both of them actively collaborate. A short story inspired by the suicides in the huge Foxconn factory in Shenzhen.
Other texts are being translated: "The Wig" which is the subject of the Harvill Secker Young Translators prize or "Gu-Sieming A life" by the reading group www.andotherstories.org.
Modern technology and internet, the "marketization" of literature that criticizes Han Dong, have positive aspects as he has highlighted in the English Pen, "only the market is powerful enough to stand up to the system … A rift has developed between them, giving independent writers space to eke out an existence. "
Bertrand Mialaret
(1) http://www.asiancha.com/content/view/856/305
(2) "Broken" by Eric Abrahamsen http://wordswithoutborders.org/article/broken
(3) Han Dong "A phone call from Dalian", edited by Nicky Harman. Several translators and a presentation by Maghiel van Crevel and Nicky Harman. 2012.Zephyr Press and The Chinese University Press of Hong Kong.
(4) "Shi Cheng, short stories from urban China" edited by Liu Ding, Carol Yinghua Lu and Ra Page. Comma Press, 2012.