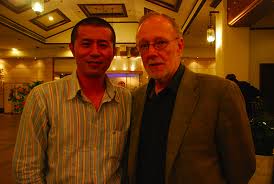 Bi Feiyu has just received, in Hong Kong, the Man Asia 2010 Literary Award; an amount of USD 30 000 for his novel "Three Sisters". This book was translated into French (1) in 2004, for Editions Philippe Picquier by Claude Payen and recently translated into English (2) by Howard Goldblatt and Sylvia Li-chun Lin who will share 5 000 USD.
This is the third Chinese writer winning the prize after Jiang Rong in 2007 for "Wolf Totem" and Su Tong in 2009 with "The Boat To Redemption". But there is only one translator for these three books: Howard Goldblatt, this is rather exceptional and should be mentioned.
Three months ago, we wondered if H. Goldblatt was not launching a takeover bid on the MAN Asia prize !The bid has been successful ! Professional qualities of this distinguished translator are well known but there is there only one translator for novels from Chinese to English?
We are happy for Bi Feiyu although "Three Sisters" is not his best book. All those who've met him praise his straight forward character, his sense of humor, his openness and his talent ….
"Three Sisters", a loose set of three short stories:  Two years ago, I presented the various novels by Bi Feiyu including a great book "The  Moon Opera", a beautiful novel about the Peking Opera and its decline under the pressure of money in today's society and its difficult relations with cultural productions.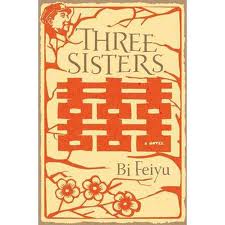 "Three Sisters" does not reach that quality level and combines three short stories that take place separately during a ten year period from 1971 to 1981.
These three sisters are doing everything they can to change their destiny and try to establish their authority over their own bodies and the world around them. Yumi, the eldest daughter, told her father: "you must find me a man! … Anyone, only one condition, he must have power or else I'd rather never get married … Without power, life is impossible. It is sufficient that the man has power to ensure that the family is again respected … This was even more important for her than for her father. "
As mentioned by Bi Feiyu in the foreword to the French edition: "Every Chinese is possessed by the passion of " domination of others". It has become a major dream for most of us. This passion is not only for the powerful, it also concerns ordinary people. " Bi Feiyu is not opposed to power but to "the concentration of power (which) can develop in social looting."
Bertrand Mialaret
(1) Bi Feiyu – "Three Sisters" translation Claude Payen, P. Picquier 2004, 350 pages.
(2) Bi Feiyu – "Three Sisters", Houghton Mifflin Harcourt, August 2010, 290 pages.
Écouter
Lire phonétiquement