A few months ago was mentioned the posthumous triumph of Eileen Chang with the success, fifteen years after her death, of three autobiographical works: "Little Reunion," available only in Chinese, "The Fall of the Pagoda (1) followed by "The Book of Change (2), written in English.
The quality of these two books is such that it was interesting to analyze the wide variety of topics and events related to the author' s life.
An autobiographical work many times rewritten: At 18, Eileen Chang made her literary debut with an essay "What a Life! What A Girl's Life " which described her difficulties with her mother and her father who had locked her and the pneumonia which nearly killed her. This text was later rewritten, and in 1963, was the basis for "The Fall of the Pagoda" the first independent part of an autobiographical work written in English. Similarly, the essay "From the Ashes," written in Chinese in 1944 (3) is a kind of summary of the second part, "The Book of change" and her life in Hong Kong.
The two volumes of this story have just been published. As for "Little Reunion," the book, written in 1976, focuses more on her relationship with her husband, Hu Langsheng, collaborator of the Japanese.
David Der-wei Wang discusses the importance of these documents which are the source of many of her novels. These writings, unpublished during her lifetime, have been repeatedly reworked and translated from one language to another. A kind of exorcism, moreover writen in English; a constantly renewed opposition to the patriarchal society that casted a shadow over her youth and college life.
"The Fall of the Pagoda," the tragic collapse of a family: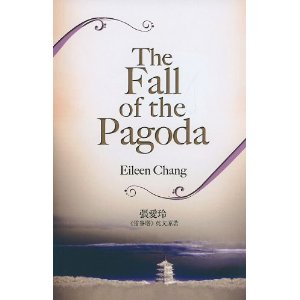 The book's title refers to the legend of the White Snake, locked forever, for having loved a human, under the Leifeng pagoda (south of the West Lake in Hangzhou), which collapsed in 1924 and was reconstructed without elegance and with lifts in 2002!
Is this the downfall of a phallic symbol accompanying the collapse of parental authority, is this the refusal of Eileen Chang to participate in the construction of the New China, the text does not say, but tells the story of Lute, a young girl with her love / hate relationship with her mother.
Her mother is playing the independent woman in Europe with lovers and ambiguous relationships with the sister of her husband. She divorced after getting rid of a concubine and left Lute and her brother to their father, an opium addict who will soon remarry.
Children are raised by servants and some teachers; Lute, as a teenager, is locked up by her father and nearly died of pneumonia; her brother did not survive to tuberculosis, a "gift" from his stepmother. Lute manages to escape and, as the war in Europe forbids studies in England, she will travel to Hong Kong.
Lute's mother, Dew, is the central character. Married according to tradition, she dominates her husband, who smokes his fortune with a concubine. Her departure for Europe creates a scandal. She does not care about her children but considers that a liberated woman must give her daughter the maximum possibilities, a guarantee of her future independence. The father does not object but does not want to pay despite his commitments. She criticizes her daughter, belittles her, considers her, in fact, as a rival that she does not love. Only refering to her is she interested in her daughter.
Dew will show in the second volume, in Hong Kong, her contempt for her daughter losing in a game of mah-jongg a scholarship that she has obtained. "Dew has gone far on her bound feet from one era to another without breaking her ladylike pace. She wants the best of both worlds East and West and is aggrieved when anything was denied her, a faithful daughter or devoted alien lovers ". She will leave Hong Kong to join a lover in India.
From Cao Xueqin to Ba Jin, the decline of major families is a central topic. But here the violence of relations is spectacular: tuberculosis of Hill, Lute's brother, the death of Uncle Prudent, starved by his family, the mother of Dry Ho buried alive …External events do not play a great role in the collapse of this family, essential is its own corruption and sometimes the collaboration with the Japanese.
Money, which has not been earned, is a fundamental instrument of power and generates struggles, court cases and fraudulent schemes between family members. No solidarity, no decency, money is essential because it allows opium, an activity that feeds the idle and has a far greater role than concubines.
The life of Lute and her education by the servants, is one of the pleasant aspects of the book: the lives and the complicated relationships within the family seen with the eyes of a little girl or an old sevant, a lot of dialogues (sometimes too much) a very natural style, a lot of distance, real talent and even some humor.
In Hong Kong, survive the war: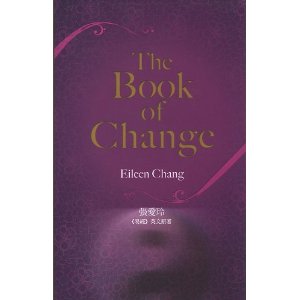 Why the title "The Book of Change," inspired by the Yi Jing? "She had never read it, It was the most esoteric of the Five Classics and not tought In the schoolroom because of its obscurity and more important its mention of sex" .
The first 50 pages of the book are intended for the reader who has not read "The Fall …" and have little interest if not sometimes to introduce a few characters from a somewhat different angle.
Lute arrives in Hong Kong with Bebe Shastri, a Malaysian Muslim, much more adapted to a full and independent life at Victoria University.
Various themes: life among students, relationships with other girls but also fashion, clothing, colors, and even after the victory of the Japanese, when food is scarce, they bought fabric! In "Written on Water" will be found even fashion sketches and "A Chronicle of Changing Clothes".
Life changes with the Japanese bombing, students enlist in civil defense; Lute works as a nurse, hampered by her inexperience and not speaking Cantonese. Some dead around her during a bombing; the war was a backdrop and becomes a threat. But the British surrendered on Christmas Day 1941, the date of the attack on Pearl Harbour.
Bebe wants to go to Chungking and Lute to occupied Shanghai: "Patriotism was just another religion she could not believe in. It was a good thing like all religions. But It had killed more people than all the wholy wars put together. She was no pacifist, just too fond of being alive. "
Her family had turned her character to be stronger, she blackmails the director of the hospital about corruption prevailing there, in order that he obtains from the Japanese boat tickets. After eight days at sea, along with a cousin, an ambassodor linked to the Japanese, and … Mei Lanfang, the star of the Peking Opera, they arrive at Shanghai, "Unlike Hong Kong, this was not a place to look at, just a world to live in. To Lute It had promised everything ever since she was a child. Now It will all be hers since she had fought so hard to get back, risked her life for it … "
Bertrand Mialaret
(1) "The Fall of the Pagoda" – Hong Kong University Press 2010, 290 pages.
(2) "The Book of Change" – Hong Kong University Press 2010, 300 pages.
These two books include a fascinating foreword by David Der-wei Wang, Professor at Harvard University.
(3) "From the Ashes," is translated from Chinese by Andrew F. Jones and published in "Written on Water" – Columbia University Press, 2005, 220 pages.