Originally published on Rue89 -12/23/2010 –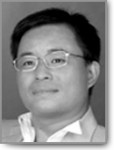 Murong Xuecun is a young Chinese writer, one of the best known and most promising; he has received the 2010  People Literature award, but was not allowed to deliver the speech he had prepared for the handing over ceremony of the prize!
An urban generation which turns away from politics?A few months ago, I regretted the small number of translations of young writers and underlined the break with the previous generation: they speaks of themselves, of their relatives and friends, of the urban middle class. Forget completely the episodes of Chinese history or the life of peasants which are the main topics of several great writers like Mo Yan, Yu Hua and Yan Lianke and have the additional advantage of allowing to discuss politically sensitive problems taking refuge in the past in order to avoid censorship.
This generation speaks of youth, student years, business life and corruption, drugs and sex. Internet is at the heart of the approach: Murong Xuecun was 28 years old when he wrote his first novel " Leave me alone: a novel of Chengdu" for a website which published it in installments.
The spectacular success led in 2003, to publish a book that sold 500,000 copies .  "Oublier Chengdu" was first translated in French by Claude Payen and published in 2006 by a risk taking publisher les Editions de l'Olivier. In total, the book has been translated into six languages and has inspired a play, a television series and a film that waited three years for a visa that was later canceled.
Literature on the Internet is much less subject to censorship than books and especially movies. But "Leave me alone…" suffered: 10 000 words were deleted. The approach of censorship, here as elsewhere, is inconsistent: the books published are censored but subsequent editions are not checked and often publish paragraphs originally deleted, which also often find themselves on the internet. In addition, we should not forget that some banned books are published in full in Hong Kong or Taiwan.
"This society is like a polluted river"Murong Xuecun is 36 years old, an optimist, far from the cynical and desperate heroes he describes. He does not stay more than two years in the same place: Beijing, Chengdu, Shenzhen, Hainan, Lhassa … these various areas, like his many professional experiences have generated many unfinished projects but also four books, including "Dancing through Red Dust " published in 2008, a story about corruption in the judicial community, professions he has been close to.
This text, which is being translated into English, tells us the life of a young man from the countryside who becomes a prominent lawyer by bribing colleagues and superiors with money and women. One of his friends, an honest judge, rebels against the system but can not avoid being destroyed just as our hero.
In 2008, Murong Xuecun takes a big risk; curiosity pushes him to work three weeks in a fraudulent pyramid selling organization in Shangrao, a small town southeast of Shanghai. He manages to infiltrate and informs the police about the mafia which controls the system. He leaves the town without trouble and publishes in a magazine his investigation which created quite a stir.
He also wrote a book "How could you be so ignorant" to warn about these fraudulent methods, without much illusions, because the organization was recreated after the arrests by the police.
He recently received the 2010 People Literature award for his writings on this case. It is a literary prize which is independent from the Writers Union (which he also refused to join) and is awarded by an independent jury … but like everywhere subjected to pressure from publishers.
He could not deliver his speech which was translated by Harvey Thomlison, his translator who has also launched a publishing company in Hong Kong.
"I have castrated myself"This speech is interesting because it shows in detail the type of dialogue which a writer can have with his publisher, responsible for the content of the book and anxious to avoid trouble and financial losses. Some words or adjectives should be avoided, an unreal and ridiculous debate!
"It's not about myself, but about the situation faced by all writers in China … I worked hard to establish my own dictionary of " sensitive words "and I checked my vocabulary and I am now familiar with these words and phrases which must be cut … sometimes to save time, I do it myself. I call it " castrated writing ", but at least I am a proactive eunuch  … and I have castrated myself."
He continues:
"The reality is that we can not talk about reality and the only view point is that we can not have one … Sometimes I can not help thinking: is the Cultural Revolution really over? "
Here, our writer is off his head: If the Cultural Revolution was not past, the consequences of such a speech on his physical integrity  could have been very serious or even fatal!
But he has the merit, as Yan Lianke, to emphasize with energy the risks of self-censorship and brings a clear answer to his question:
"Why does China not have great writers? Because they are castrated during their first years".
Bertrand Mialaret