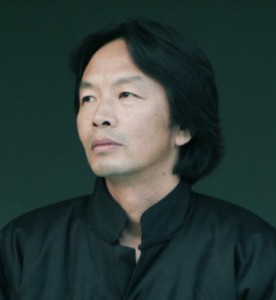 Liu Zhenyun is one of the Chinese writers best known for his literary successes and the famous films of his friend Feng Xiaogang. Liu Zhenyun, on a European tour, just spent a few days in Paris to present films and novels as he had already done in October 2013.
A family tour :
The program began with a presentation at the Confucius Institute of the University of Paris Diderot of " A word is worth a thousand words "directed by his daughter Liu Yulin and with the English title of "Someone to talk to". Liu Zhenyun wrote the script from a part of his long novel, which sold 1.5 million copies after the Mao Dun award in 2011 (1). The main theme is loneliness, the weakening with time of the links between people and the impact of a society without religion.
Liu Yulin is thirty years old and studied at the Tish School of Arts in New York. Her film was released in China on November 11, 2016, the day of the singles, and was rather well received.
Sciences Po in Paris, 450 Chinese students!
Liu Zhenyun gave a lecture at Sciences Po, organized by Geneviève Imbot-Bichet, who has been responsible for the publication of Liu Zhenyun's six novels in France and Laurence Souloumiac, who at Sciences Po runs the Center for Asia, the Pacific, Africa and the Middle East. She pointed out that 450 Chinese students were studying at Sciences Po. Many years ago, as a student in Sciences Po, I was in charge of the international student group and I remember that Sciences Po had only two Japanese students but no Chinese!
An amphitheater of more than 200 seats, filled mainly by young Chinese, happy to meet a celebrity. Liu Zhenyun, delighted with an  audience very different from that of literary festivals and showing a real talent to amuse the audience and sometimes to avoid answering questions
. Celebrity through cinema:
The successes of Liu Zhenyun and of director Feng Xiaogang are very connected, they are long-time friends. A considerable success in 2003 of the novel and the film "The cell phone". A new success with the cinematographic adaptation of an essai, published in 1992 and translated in 2013, "Remembering 1942" (2) that Liu Zhenyun had come at that time to present in Paris.
The northern part of the Henan province is an area where the author spent his youth and which suffered in 1942/1943 from a terrible drought leading to the death of three million people. The distribution of food rations by the Japanese army while the nationalist government had done nothing, somewhat limited the drama. But the Chinese villagers then helped the Japanese to gain considerable success on the Chinese army.
A very beautiful book that had no difficulty when it was released in 1992; in 1942, the communists were not in power. The film took years to be shot. Nevertheless in November 2012, the 25 million euros invested were recovered in one week.
During a debate in Paris in October 2013, some were surprised that this 1942 essay did not in any way evoke the famine that followed the Mao Zedong policy of the Great Leap Forward in the 1960s and which caused the death of more than 30 million people. Two main works are devoted to this period: that of a Chinese journalist Yang Jinsheng "Tombstones" and one of the most beautiful novels of the last five years, "The Four Books" by Yan Lianke (2); These two books translated into French are banned in China.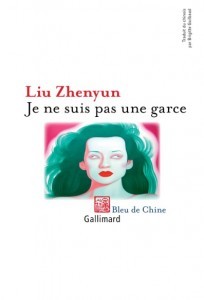 The last cooperation between Liu Zhenyun and Feng Xiaogang gave rise to "I am not Madame Bovary", which I unfortunately could not see and which is considered one of the most beautiful films of the filmmaker. The novel was translated into French under the title "I am not a bitch" (3) while the Chinese title can be translated as "I am not a Pan Jinlian", a woman with perverse sexuality in a famous Ming novel, the "Jin Ping Mei" (4). It is difficult to find connections between Pan Jinlian and Madame Bovary!
The novel describes the efforts of a peasant who, for ten years, from her village up to Beijing, tries to obtain justice. A beautiful book that recalls Zhang Yimou's film of his creative years (1992), "The Story of Qiu Ju" with Gong Li in the lead role.
Very different is a novel, translated only into English (5), better known under the translation of the Chinese title "I am Liu Yuejin". It is a detective novel where a migrant, who works as a cook, gets his papers stolen but finds a floppy disk that many want to seize. Another bookstore success and a film shot by filmmaker Ma Liwen in 2008 under the title "Lost and Found".
Even the early works of Liu Zhenyun were used as scenarios. "Tapu", his first success in 1982, was adapted by Wang Wei in 2007. It should be noted that this beautiful short story has just been translated into French (6)
"Mandarins" and " Garlic Skins and Chicken Feathers" (7) were combined and a serie for television was made by Feng Xiaogang in 1994, their first successful cooperation. These are beautifully written short stories at a time when the author was interested in the historical developments of his country and had a real will for critical analysis.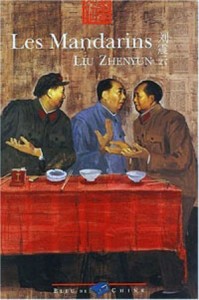 The turbulence of history and censorship:
Unlike major writers like Mo Yan and Yan Lianke and excluding "1942" which is an essay and not a novel, the turbulences of history play a secondary role in Liu Zhenyun's works, he even explains in "A word is worth a thousand words, "that what interests him is the life of ordinary people and that only.
This position has nothing to do with censorship. He considers in an interview of June 2015 (8) that "There is not a country that does not impose censorship on artistic and literary works. Additionally, in China, the situation has improved noticeably in recent years". "In a sense, one could view censorship as an important factor in the creation of great writers and directors in China. Pressure is not necessarily always a bad thing " !
He is perhaps now less convinced after the closure without explanation in January 2016 of "Beijing Zhongze Women's legal counseling service", created in 1995 by Guo Jianmei, a lawyer known throughout the world and who is his wife. This center helped women victims of domestic violence, labor disputes, land disputes … This decision is part of the recent governmental actions against the legal professions and civil society.
"The Cell Phone", a technological novel: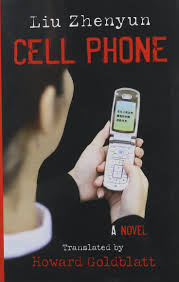 At Sciences Po, he spoke little of his novel, "The Cell Phone" which has just been translated into French (9). This novel is one of his great successes. First a screenplay for a film by Feng Xiaogang; The director would have insisted that a novel be written and published at the launch of the film in 2003. A considerable success, 200,000 copies sold the first month and a film that was the biggest success of the year at the box office.
The hero, Yan Shouyi is a featured host of a television program called "Call a Cat a Cat"; he speaks a lot and often to say nothing (Chinese television does not have the exclusivity of this kind of broadcast!). He spent his childhood in a Shanxi village and his family's history shows us that communication between villages was long and difficult.
The phone, the cell phone, has changed everything, including relationship between people, their way of speaking, of understanding each other, of lying ("I cannot speak to you now, I am in a meeting "). The technology of the cell phone is at the center of the story and creates the twists: how to go from a ringtone to a vibrator, how to send a photo or a message, how to disconnect the battery …
The narrative is centered on the infidelities of Yan Shouyi and his friend Fei Mo. The characters are not always interesting or endearing, so we are not captivated by a scenario that hesitates between comedy and survey of manners. Moreover, the novelist is more at ease when his hero returns to his village than when he depicts him in the corridors of television.
Yan Shouyi is a bit of a caricature, but in this period of presidential election in France, he reminds us of a fundamental rule: when one has difficulties justifying a lie, one must quickly invent another story to justify the first one !
Bertrand Mialaret
(1) Liu Zhenyun, "A word is worth a thousand words" translated into French by Isabelle Bijon and Wang Jiann-Yuh. Bleu de Chine – Gallimard. 2013, 720 pages.
(2) Yan Lianke, "The Four Books," translated into French by Sylvie Gentil. Philippe Picquier, 2012, 410 pages.
(3) Liu Zhenyun, "I am not a bitch", translated into French by Brigitte Guilbaud. Bleu de Chine-Gallimard, 2015, 292 pages.
(4) "Jin Ping Mei", translated into French by André Levy; La Pleiade, 2 vol. 1985.
(5) Liu Zhenyun, "The Cook, the Crook and the Real Estate Tycoon," translated by Howard Goldblatt.
(6) Liu Zhenyun "The Exams", translated into French by Grégoire Läubli and Zhang Zhenfeng and published by Ming Books in a good collection of short stories "Tranchant de Lune" 2015.
(7) Liu Zhenyun, "The Mandarins" (2004) and "Garlic Skins and Chicken Feathers" (2007) were translated into French by Sebastian Veg and published by Bleu de Chine.
(8) The China File, 1/6/2015, interview by Ouyang Bin.
(9) Liu Zhenyun, "The Mobile Phone", translated by Hervé Denes in collaboration with Jia Chunjuan. Gallimard-Bleu de Chine, 340 pages. Available April 20, 2017.
(10) Liu Zhenyun, "Cell Phone," translated by Howard Goldblatt. MerwinAsia 2011, 250 pages.