Originally published on Rue89- 09/13/2010 –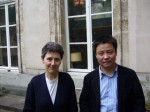 After the international success of his novel "Brothers", Yu Hua, publishes as world premiere in France, "China in ten words," a collection of essays organized around ten key words: political terms of Communist China or of the current capitalist developments, but also sociological analysis and texts related to the writer's career.
This book is an extension of "Brothers" – " the idea is to fill with a non-fictional narrative, the gaps in this story" – but also to analyze in depth the main topic of "Brothers" : in forty years, from the Cultural Revolution to nowadays, China has undergone tremendous changes and transformations that, in Europe,have needed several centuries to take place.
These ten words are: "Like ten pairs of eyes … to scrutinize the current China under ten different angles".The main quality of this book is that, on the basis of daily life, it merges the political and economic analysis with the history and personal experience of the writer.
"People" and "anarchist"paradise in Tiananmen Square:
The first essay, "The People", includes part of the excellent article that Yu Hua has written for The New York Times on the occasion of the twentieth anniversary of  the Tiananmen Square crackdown.
He talks about the people, a word that was prestigious and now meaningless and  only used by officials. Thirty years ago, politics was above all, now, money is king and "since the 1990s, corruption in China has grown at a breathtaking speed as fast as the economy."
Ihe tells us about Beijing during spring 1989, an "anarchist paradise" where the police had disappeared and the students and people had spontaneously taken over. " We have the impression to read again some texts concerning May 1968 in France!
This period allowed him to understand what the word people means: "When people are united, their voices carry farther than light and the warmth of their bodies carries farther than voices. "
Living without books:
Yu Hua is back to his youth during the Cultural Revolution. Only a few books are allowed, others are read and shared so much that the first and last pages are missing; it stimulates the imagination, it may be the origin of his vocation.
This developped by reading and production of posters (dazibaos) informing against or defending teachers or neighbors. But he managed to avoid becoming a "red pen", a writer in the service of politics and trying to follow its unpredictable reversals.
A lot of humor to explain his work as a dentist: it is to stop  pulling teeth that he began to write. The release of one of his short stories by a Beijing magazine and his visit to  the capital, allowed him to be transferred to the Cultural Center of his small town of Haiyan.
As pointed out recently, the writer Lu Xun, "taken over" after his death by Mao Zedong, had become a political reference. Yu Hua, an undisciplined schoolboy, explains how he used the tune of the time, "Chairman Mao teaches us and Mr. Lu Xun said," to defend incredible lies.
But Lu Xun is also a great writer that he discovered in 1996 and Kong Jiyi ( in the collection of "Cries") is his model for the short story.
Mismatch and revolutionary violence:
Teenage years, fighting and first sexual emotions, he also reminds us that for this generation:
"Our childhood memories are remarkably similar and revolve around the good things we have eaten. We have very happy memories out of those. "
Things have changed … but the major point is the phenomenal growth of inequality: it is not during Mao's time, it is in "today's China that the class stucture and class struggle became reality".
This shortcut seems to forget too quickly the social structure of the post war period, but we will gladly agree with Yu Hua when he emphasizes that the public is: "not interested in the fate of some 100 million people living in unimaginable poverty. Our real tragedy may lie there: not seeing that poverty exists is even more terrible than the poverty itself " .
For the author, the incredible economic development in recent years is the latest rebirth of revolutionary violence: expensive and unrealistic programs managed by the provincial governors and overcapacity in some industries  which are currently worsening.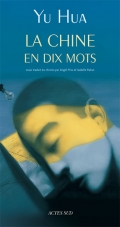 The willingness of "little people" to make money has replaced their revolutionary energy. The Cultural Revolution led to a redistribution of political power, the capitalist development has opened a redistribution of economic power. But it is today dangerous to be rich as it was risky to succeed in politics and being close to Mao !
Democracy and Development:
Yu Hua makes fun and rightly so, with the short sight of some Western intellectuals who, "prisoners of preconceived schemes, are convinced that an economy can grow fast only in a fully democratic society." He does not really analyze this critical issue, but underlines: "I want to say … that it is precisely the lack of political transparency which has allowed the rapid development of the Chinese economy. "
To support his statement, one could also compare the reactions in China to the current economic crisis,with those that take place in Europe and the United States.
But Yu Hua is not optimistic; after Tiananmen in 1989, the political system reform has been stopped while the economy started a very fast development.
"Because of this paradox, we live in a complete contradiction … In a society where the political system lacks transparency, rapid development of the economy inevitably creates many social problems … and a confusion in the vision of the world and in the value system. "
The book will be published neither in China nor inTaiwan. Paragraphs on Tiananmen, on the leaders or the contradictions in China are too biting.
Yu Hua thinks that he is sufficiently famous in and outside China to allow himself to cross the yellow line, rather timidly, moreover, because the central problem of the  power monopoly by the Communist Party is not touched.
This is not a controversial and schematic book for a Western audience. It is a fascinating book, elegantly translated by Angel Pino and Isabelle Rabut, his "usual" translators who have worked hard in France for the success of Yu Hua.
Bertrand Mialaret
Photo: Yu Hua (right) with his French translator Isabelle Rabut in Paris in 2008 (Bertrand Mialaret)
"La Chine en dix mots" by Yu Hua – translation Isabelle Rabut and Angel Pino – ed. Actes Sud, 370 pp., 22 euros.