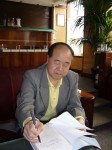 Marketing fad or same age effect, during the last months, three autobiographical books  have been signed by the major writers of modern China: Yan Lianke, Yu Hua and Mo Yan.
The book byYan Lianke was a great success, which he did not expect. "The generation of my father" sold more than three hundred thousand copies. A book on the life of his village and his family and filial piety.
Yu Hua's book is very different: a number of essays often on political matters are also linked to the main events of his life; "China in ten words" is as well Yu Hua in a few words or in a few autobiographical essays.
Mo Yan's book is not a political essay, despite its publication by the University Press of Chicago in a series "What was Communism" managed by Tariq Ali. A book published in March 2010 directly in the English translation by Howard Goldblatt.
Mo Yan describes several episodes of his life from his expulsion from school, refering constantly on his relationship with his friend He Zhiwu and Lu Wenli, the girl that He tries unsuccessfully to seduce.
But the most interesting character … is an old Russian truck, Gas 51, driven like a meteor by the father of Lu Wenli. When Mo Yan joins the army, he hopes to drive trucks and his unit also runs a Gas 51. This brings us fabulous pages on the courtship of the two trucks that Mo Yan, unfortunately, does not develop.
Most episodes of his life have already been mentioned by Mo Yan in several interviews, but we find many amusing anecdotes and specially, in 1987, the film by Zhang Yimou, in Gaomi, the hometown of Mo Yan. In the film version of the novel " Red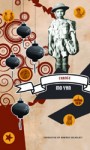 Sorghum", the actress Gong Li does not seduce the peasants!
This short text, a hundred pages, is a sketch; lets hope that Mo Yan, as Yan Lianke after a short story, gives us a full fledged novel about his life.
Bertrand Mialaret