Originally published on Rue89-02/14/2009.
Can you become a millionaire when you are a writer in China? The writers that the Chinese Communist Party try with some success to control, certainly live better than during the time of the Writers' Union. The market pressure is ambivalent, it can increase but also reduce the control of the "politically correct".
Larger royalties in Paris than in Beijing:
"How do the French writers earn their living," this article in Rue89  had aroused my curiosity. The excellent website www.danwei.org  provided early December 2008 figures on the royalties of the writers in China.
The five best-selling novelists in France (Marc Levy, Anna Gavalda, Guillaume Musso, Fred Vargas, Bernard Werber) generate in three years (according to Les Echos, 7 November 2008) a turnover of 200 million euros, selling 20 million copies (large size and paperbacks).
A figure well above that of Chinese writers, while the percentages of copyright are comparable. Indeed, the average price of a book in China is only three euros. Also prints, even bestsellers, rarely exceed one million copies (while "pirate" printings can reach much higher figures).
Even for famous classical works, the cumulative printings do not exceed five million; this is the case for "The Dream of Red Mansions" by Cao Xueqin, one of the great works of world literature, "Family" by Pa Kin and "Rickshaw Boy" by Lao She.
The novelists are lagging behind?
Looking at the figures of the 25 highest royalties for the years 2006 and 2008, only nine authors are included  in both years: two stars of the younger generation (Han Han and Guo Jingming), two authors of children books, two writers known for their TV shows, a crime writer, a novelist famous with the young female audience (Annie Baobei) and a novelist of whom we have recently underlined the qualities, Chi Li .
The share of novelists is highly variable: 12 out of 26 in 2006, the year of publication of many successful novels; only 6 in 2008, at par with authors of books for children and youngsters. If we add the two sets of figures, six writers earn total fees (excluding TV and film) exceeding one million euros over two years: two children authors, two specialists of historical novels and our two writers of the younger generation.
A total of forty writers have earned more than 100 000 euros in two years.
Our  French writers are better paid and Rue89 article mentions "in front of the pack, they are a dozen authors, never more than fifteen, to be entitled to advances (on royalties) ranging between one and two million euros per book. In the the pack, "several dozen of authors, up to a hundred in the good times, receive advances  between 150,000 and 250,000 euros.
The new "stars" Han Han and Guo Jingming: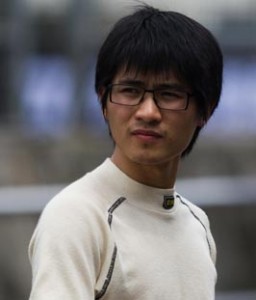 Some common features: they are very young (26 years) and have been known with a literary prize or refusing to go to university! Very conscious of their looks, they occupy the columns of the tabloids with their romantic adventures, their clothes, their way of life (Han Han is also a racing driver) or their misfortunes (Guo was convicted of plagiarism).
Their image is essential and both are published by the kings of marketing of the profession (An Boshun for Guo and Lu Jinbo, (a founder of the large literary internet site Rongshuxia) for Han Han.
They are hardly known outside China and only Han Han has been translated into French, his first novel "Three Doors" , written at the age of 17, is a sharp critic of the school system and was successfully published by JC Lattes in 2004.
Each of their books have sold over 500,000 copies and the internet is an essential tool: the blog traffic of Han Han is one of the highest in China (210 million contacts) and Guo has created  literary magazines for youngsters "15land" and "Top Novel."
Their editors repeat that they are young, they speak the language of the youth and  of today's reality while the Mo Yan and Yu Hua are dated and remain with the topics of  peasants and Cultural Revolution; they are less talkative about the literary qualities of these works !
Literary reviews and royalties:
A ranking by critics in China is very different from the hit parade of royalyies, only five novelists appear in both lists and our new "stars" are eliminated without pity.
The four top of the list are well known: Mo Yan, Yu Hua and Yan Lianke.
But Shi Tiesheng is  only known in France with a collection of short stories ["Fate", short stories translated by Annie Curien. Gallimard, 2004, 215p., 21 euros ] which includes one of the most beautiful texts published in recent years "The Ditan garden and me." The author is 58 years old, he has been paralyzed since the age of his majority and suffers also from kidney problems. His novel "My stay with Ding Yi", published in 2005, had a great impact on critics and the public but has not yet been translated.
It is interesting that in this list of 25 novels made by critics, 18 have already been translated into French, a score that underlines the outstanding quality of the work of publishers, but it also hoped that works of lesser value but closer to the concerns of the new generation will also be published.
Bertrand Mialaret