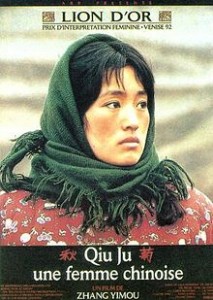 On a plusieurs fois mentionné ce cycle remarquable qui se tient à l'Institut Confucius de l'université Paris Diderot. Celle-ci est bien reliée au centre de Paris par de nombreuses lignes de bus et par la ligne 14 (Météor). Point d'excuse pour ne pas retrouver des amphis même si parfois le matériel de projection se fait un peu prier !
Environ soixante films ont été présentés ces dernières années et il faut remercier Marie Claire Quiquemelle et le centre de Documentation sur le cinéma chinois de Paris. Les séances sont présentées de manière remarquable par Brigitte Duzan qui reprend ses interventions sur son site www.chinesemovies.com.fr . Luisa Prudentino, chargée de cours à l'INALCO, intervient également.
Un programme de quinze films qui, en octobre dernier, nous a permis de voir une rareté, le « Confucius » de Fei Mu (1940), que l'on croyait perdu et qui vient d'être restauré. Un film magnifique, bien supérieur à la réalisation pompeuse sortie il y a trois ans sur le même sujet. Jeudi prochain, 27 novembre à 18 heures, (amphi 5c) on pourra voir « Life » (1984) du grand cinéaste Wu Tianming, récemment disparu et le 11 décembre, son film le plus célèbre, « Le roi des masques » (1996).
En 2015, deux films inspirés d'œuvres d'écrivains qui font partie des meilleurs, Lu Wenfu (avec « Le puits », 1987, réalisé par Li Talin) et Shi Tiesheng (avec « La vie sur un fil », 1991, de Chen Kaige).
Quelques films très célèbres dont « Qiu Jiu, une femme chinoise » de Zhang Yimou. Il faut noter aussi, en prolongement de la saison dernière, deux classiques du wuxia : « The bride with white hair » ,1983, de Ronny Yu et « Seven swords », 2005, de Tsui Hark, d'après des romans d'un des maîtres du wuxia, Liang Yusheng.
Enfin, trois films récents : « Fly with the crane », 2012, de Li Ruijun d'après une nouvelle de Su Tong, « Caught in the web », 2012, le dernier film de Chen Kaige et « Coming home », 2014, de Zhang Yimou, d'après un roman de Yan Geling.
Bref une programmation et des présentations de très grande qualité, à ne pas manquer.
B. Mialaret