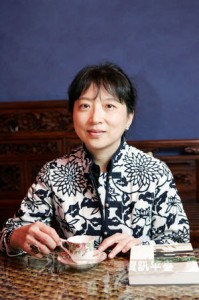 Zhu Tianwen is one of the most famous Taiwanese writers, she has just been awarded the Newman prize, a biennial prize by the University of Oklahoma. She is the first female recipient and was in good company with finalists such as Yu Hua, Yan Lianke, Ge Fei. She succeeds Mo Yan and Han Shaogong who were awarded the prize in 2009 and 2011 as well as theTaiwanese poet Yang Mu.
An award for her work but specifically for a collection "Fin de siècle, Splendour". This collection of eight short stories, published in 1990, is considered by Margaret Hillenbrand, an Oxford professor and member of the jury, as a significant development with the art of the short story.
1- "I look, I remember, I write; that's what I'm doing. "(1)
Three stories in this collection are translated: the title short story (4) is available in English "Master Chai" (3) and "The incarnate Buddha " (3) into French. "Master Chai" is a Buddhist and a healer, he lives with his sons who have renovated a building turned into a video club visited by soldiers from the area. A young woman, a patient, has a strong impact on him… It's a kind of pastiche of the Nouveau Roman, no plot, little concern shown for the characters …
"The incarnate Buddha"(2) is much more ambitious but not really convincing. Xiaodong is 15, he is raped in a miltary compound by Jiaba, the best basketball player of the village. Much later, he met Lin Zhong, bisexual, that will not become his lover, "they saw that it was the beginning of a long and intimate friendship. They should have been rejoicing and yet it was nothing more than that … He had been able to resist desire for the first time, he knew he would be able to withstand a second, a third … "Asceticism, union of bodies, desire, all that is handled in a rather superficial manner.
"End of century Splendour"(4) has been the topic of numerous comments. In these post-modernist techniques, the collages, the topical elements allow to portray the characters. Mia is 25,  with a much older lover. She is an urban woman who lives in luxury, fashion and for whom a visit in the suburbs is agonizing. She is completely independent from men, even financially.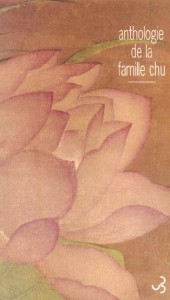 She a bit of a witch; an important topic for Zhu Tianwen, including in her latest and untranslated book "The words of a witch" (2008). An apartment full of dried flowers and various herbs, everything revolves around Mia's sensory emotions. Fashion is important, you are what you wear. Fashion designers such as Issey Miyake and Yamamoto are quoted, but is Mia really involved? We are more impressed by the vision of fashion by Eileen Chang in "Written on Water".
The approach is brilliant, innovative; the short story is  lively with plenty of tempo although beyond the excitement of a modern Taipei, reigns a profound melancholy; "The world men have built with theories and systems will collapse and she with her memory of smells and colours will survive and rebuild the world from here" (p.66).
2. Writing within a family.
The father, a military, a well known writer, who had to flee the continent after Chiang Kai-shek's defeat, a Taiwanese mother, a younger sister Zhu Tianxin, also a writer . Zhu Tianwen  was born in Taipei in 1956, the family lived a long time in a military compound, one of these 900 villages built to house the 600,000 members and their families, lightweight construction as this stay was to be only temporary until the reconquest of China (5).
She began writing very early, in college, then during her English studies at the university. Two writers had a considerable influence on the family: Shen Congwen and especially Eileen Chang. Reverence for Eileen Chang led their father to welcome Hu Lancheng, the first husband of the latter, in 1974 to teach at the university. Hu Lancheng was propaganda minister in the government of Wang Jinwei who tried to organize in China collaboration with Japan. He could not stay long in Taiwan where he was expelled two years later after six months as a tutor of the Zhu girls.
His influence on the two sisters led to the foundation of a literary magazine Sansan and a publishing house and continued until his death in Japan in 1981. It was at that time that Zhu Tianwen met Hou Hsiao-hsien who was going to  become one of the leaders of the New Cinema.
3- I'm not a writer, I'm more like a "coach".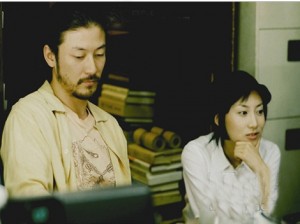 Their cooperation lasted 27 years and six films. Written scenarios for Hou Hsiao-hsien is the result of joint work on a theme: autobiographical memories and episodes in the history of Taiwan. It was only after the scenario that short stories, which have the title of the film, are written; moreover "words and pictures are totally different mediums to convey messages and feelings … They're so different that to some extent, the better you are at words, the worse you get with images" (1).
She never adapted one of her own short stories and although she points out that Hou Hsiao-hsien was an artist who wanted a "total control" over his work, she is rightly proud to have participated in the development of this cinema in Taiwan. On top, this activity allowed her financial independence and the opportunity to fully choose what she wanted to write.
Apart from "Fin de siècle Splendour," other short stories have been translated: "The city of hot summer", 1987 (3). This text deals with the daily life of the time, military compounds, ordinary people. Even the assassination of the younger brother of Demei, the wife of the narrator, is not really used as a dramatization. The life of Lu Congzi the narrator, his past romance with Yanyi, his relations with Ye as a customer, all this is not really original; the same goes for his financial difficulties as a result of a tender that he won.
Nevertheless, a distanced narration, rather clever developments, a text that is read with pleasure. The same goes with «More paradise" (3); this short story written in 1982 also provides interesting details on military compounds; the heroine Zhen Sulan is separated into three characters, three facets of her personality. She lives with Qiao, a married television producer who gave her the role that made her famous. She feels isolated, resents Qiao's life with his wife and three children; this may explain a suicide but media releases are hesitant and contradictory …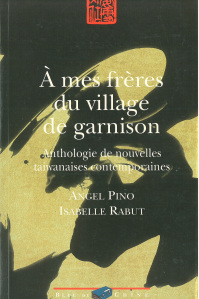 4- Postmodern response after the end of martial law.
The repeal of martial law in 1987 allowed the development of a democratic life but also more openness of Taiwan to the wide world.Taiwan, for primarily economic reasons, is part of an increasingly globalized world. The impact of the media, fashions, Western "stars" as well as writers, filmmakers, philosophers on local culture is considerable. This creates an identity crisis and promotes the development of an insular nationalism.
It is in this context that one should read "Notes of a desolate man" (1994) (6), the 170-pages confession of Xiao Shao, an homosexual, forty years old, who has just lived the last five days of his childhood friend Ah Yao. He dies of AIDS which he got after a long stay in New York and San Francisco. The narrator is not seropositive, he supports family values, accepts his homosexual identity but refuses promiscuous behavior of the "gay"activists Ah Yao  has met in the United States. "Ah Yao insisted that gay is white, male. The term homosexual is politically incorrect. Queer is not like that at all. Male, female, yellow, white, black, bisexual, transsexual, there's room for everyone, that's queer "(p. 25).
The narrator talks about his lovers, his break with Jay, a dancer, his relations in Paris with Shi, but mostly of the seven years of happy life with Yongjie. He worries about getting old, and a  a loss of sexual desire; AIDS is also very present.
The tone is either distanced or rather depressed; reflection on desire and his love life led him to write because he knows that memories with Ah Yao will erode and that writing is perhaps a way to escape oblivion, death, grief. Yet Ah Yao was just a friend, "for a long time, we both knew he was gay, but I would'nt admit that I was. So he hid this side of himself from me and we continued as playmates. "
Construction is brilliant but the number of references to the contemporary world, to the news is sometimes excessive and does not always give a more interesting picture of the protagonists. Intertextuality, collages, the profusion can sometimes become tiring although some comments are remarkable, for example those concerningYasujiro Ozu, one of my favorite filmmakers.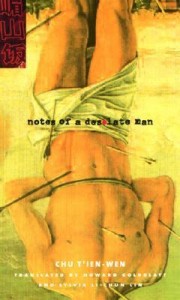 She claims to write for an "elite" that can accompany her in all her cultural references and who will agree that the main topic is time. "Time cannot be turned back nor can life. However in the process of writing, I am able to turn back everything that otherwise couldn't be" (p.166).
Bertrand Mialaret
(1) Interview with Zhu Tianwen in Crienglish. com (2010.12.08).
(2) "In rememberance of my buddies from the Military Compound", an anthology of contemporary Taiwanese short stories, edited by Angel Pino and Isabelle Rabut. Bleu de Chine 2001.
(3) "Chu Family Anthology", texts selected and translated into French by Isabelle Rabut and Angel Pino. Christian Bourgois, 2004.
(4) Zhu Tianwen "Fin de siècle Splendour" (1990). Translated by Eva Hung. "City women," Renditions paperbacks. Hong Kong 2001.
(5) Angel Pino, "Literature of Military Compounds"; Les Temps Modernes, July-September 2014.
(6) Zhu Tianwen, "Notes of a desolate man", translated by Howard Goldblatt and Sylvia Li Chun-lin; 170 pages. Columbia University, 1999.