The writer and poet Liao Yiwu was unable to attend last September the Frankfurt Book Fair; a few days ago, he could not leave Chengdu to fly to the Literary Festival in Cologne. In short, he never could get out of China !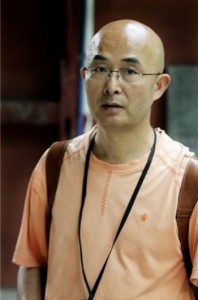 Born in 1958, he narrowly escaped death during the famine of the Great Leap Forward then the Cultural Revolution led to the breakdown of his family: his father, a teacher, was prosecuted, his mother with no residence permit, had problems with the police.
After his high school years, he traveled extensively within China and began to publish poems. In June 1989, he wrote "The Great Massacre" on the crack-down of the Tiananmen Square. A few months later, he and his friends wanted to turn this text into a movie; the reaction was very strong: seven were sentensed to two years in prison and four years for Liao Yiwu.
The harsh conditions of confinement lead to attempted suicide, but also to two discoveries: music in the art of the flute and a marginal world of murderers, rapists, pimps, mad men …When he was released from prison, his wife asked for a divorce and left with their child. He lead a life of vagrancy and met many social drop out.
All these meetings will lead to 60 portraits, published in China in 2000 but quickly banned. Twelve of them were translated into French in 2003 by Marie Holzman for "Bleu de Chine", "The Empire of the Lowest Depths "; 27 in English (" The Corpse Walker "Pantheon 2003). This is a rather disheartening vision found with several writers of this lost generation, one that could not have a normal schooling during the Cultural Revolution.
We can now enjoy the beauties of the poet as Editions L'Harmattan, in 2008, published "Poems from Prison", translated by Sun Shanshan and Anne-Marie Jeanjean. This collection also contains two pieces: "The Soul asleep" and "The Great Massacre":
"The great massacre begins with the heart of Beijing
when the Prime Minister catches cold, people go coughing,
the city has been closed and locked and finally besieged.
The state machine of this old and sick country has no teeth
to crush the people who resist.
PS- He has just been allowed to travel to Germany.
Bertrand Mialaret