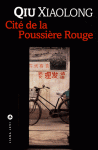 Originally published on Rue89 07/13/2010
As published last year, here again is a choice of ten chinese novels for your summer, recently published (in France ) as paperbacks and easy to find.The choice of novels of more than 300 pages has been limited to two books, as some readers shy away.
Only writers and books which came under review last year have been selected.
Available also in English:
–         Diane Wei Liang: The eye of jade.
–         Qiu Xiaolong: Years of red dust. Already published in French and released in English end september.
–         Eileen Chang: Lust caution.
–         Bi Feiyu: The moon opera.
–         Yan Lianke: Serve the people.
–         Su Tong: My life as emperor.
Not yet translated in English:
–         Chi Li: she is a very good writer, seven of her books are published in France by Actes Sud, none in English, why?
–         Yan Lianke: Les jours, les mois , les années. A novella, a masterpiece.
–         Brothers by Yu Hua.
–         One's man Bible by Gao Xingjian.
Bertrand Mialaret