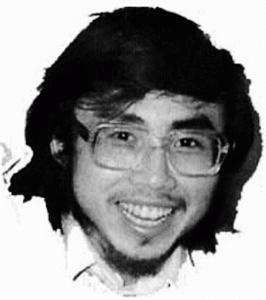 Hai Zi, who committed suicide at age 25, remains one of the most celebrated poets in China especially with the younger generations. Some very creative years, 250 short poems, 400 pages of long poems, short stories, plays. His complete works were published in 1997 by his friend, the poet Xi Chuan.
Two important collections of English translations (1.2). In France, Hai Zi is known only through three pages of poems published by the "Anthology of Chinese Poetry" in the collection of La Pléiade (3) and nine poems translated by Romain Graziani in the excellent "Anthology of the new Chinese poetry ", directed by Chantal Chen-Andro (4).
– A son of peasants, a very brilliant student:
Hai Zi was born in a small village in Anhui Province in 1964. At age 15, he was admitted to the Legal Department of the prestigious Peking University. A brilliant student and a poet who starts publishing in magazines like his friends Luo Yihe and Xi Chuan. Graduated at age 19, he became a professor at the Chinese University of Political Science and Law and edited the  journal of the university.
An intensive creative period during five years; an isolated life in Beijing devoted to writing as an almost unknown poet. A difficult life especially as his contacts with his village had gradually became loose. Few travels except on the Qinghai Plateau and Tibet; a trip to Delingha in 1988 where a monument recalls his memory and a festival of poetry.
On March 2, 1989, he lied down on the train track in Shanghaiguan, 300 kilometres east of Beijing. This suicide, a few months before the Tiananmen massacre in June, will be one of the reasons for the real worship that will be given to him, especially on his tomb, on a hill near his village.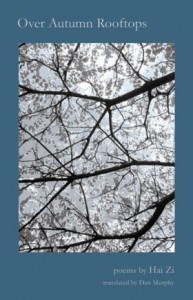 The debate on the causes of his suicide is not over; the references to death and to autumn are constant in his work. He suffered from his isolation, depression, hallucinations that he thought were related to the practice of qigong; he was afraid of being mentally ill. The suicides of poets round him will multiply; his friend Luo Yihe in May 1989 and the most dramatic, that of Gu Cheng in New Zealand in 1993 after he murdered his wife.
– A poetry of the countryside, nature, seasons.
Poems that do not deal with the city or the great historical turmoils. He says he is influenced by the Chinese classics (the Book of Odes and Qu Yuan) but also Homer and Greek mythology. He also invokes Van Gogh, his "emaciated brother".
A poem, "The Swan" (1986.5), gives us a summary of his preferred themes.
In the night, I hear distant sounds of swans flying across the bridge
the river in my body
echoes them
as they fly across the soil of birthing days, the soil of dusk
there is a wounded swan
only the beautiful, blowing wind knows
she is wounded, but she keeps flying
and the river inside my body is too heavy
heavy as a door hanging on a house
as they fly across the distant bridge
I cannot echo them in exquisite flight
they fly like heavy snow over the cemetery
through the heavy snow there is no way to my door
-bodies have no doors-only fingers
erected in a cemetery, like ten frostbitten candles
on my soil
on the soil of birthing days
there is a wounded swan
just like in the folk singer's song
Haizi was too young to be part of the students sent to the countryside, who during the years 1970-74, wrote poems, copied in secret hand-written poetry. Some of these texts will be published in the magazine "Today" founded in Beijing by Bei Dao and Mangke in 1978, which was posted on the Walls of Democracy before being banned at the end of 1980.
He was not part of the group of "misty" poets of the early 1980s, which were made famous by Beidao, Gu Cheng, Mangke, Yang Lian … This group refuses the revolutionary "realist" tradition and poetry at the service of politics. Poetry is an individual creation, it is a mirror of oneself. The focus is on the image in the creative process even if it is accompanied by sometimes complex and obscure texts.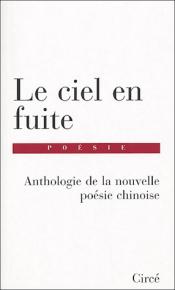 The generation of Hai Zi is very different, it did not experience the re-education in the countryside, could go to university, knows the works of the world literature, the great movements of thought and all the "isms" (existentialism, surrealism, structuralism …).
One must also note a certain mysticism and the Bible was one of the books found around his body after his suicide. Reading this text was not so common at the time. All this is acceptable to the Party because the poet shows no interest in politics. He refers to an ideal life in the country as shown by "Facing the Ocean, Spring Warms Flowers Open" (1989, 6), his most famous poem which is part of the textbooks of high school students since 2003.
starting from tomorrow, become a content person
feed the horses, split wood, roam the world
starting from tomorrow, I'll concern myself with grains and vegetables
I have a home, facing the ocean, spring warms flowers open
starting from tomorrow, I'll write letters to all the relatives
to tell them of my contentedness
what that content lightening flash told me
I will tell everyone
give a warm name to every river and every mountain
strangers, I send you my blessings
I hope for you a splendid future
I hope that your lovers become family
I hope that in this dusty world you become content
I only hope to face the ocean, as spring warms and flowers open
Bertrand Mialaret
(1) "Over Autumn Rooftops," poems by Hai Zi, translated by Dan Murphy, Host Publications, 2010, 270 pages.
(2) "Ripened Wheat", selected poems by Hai Zi, translated by Ye Chun. The Bitter Oleander Press; 2015, 200 pages.
(3) "Anthology of Chinese Poetry", published under the direction of Rémi Mathieu.  Gallimard, the Pléiade; February 2015, 1600 pages
(4) "Le ciel en fuite", Anthology of the new Chinese poetry, established and translated into French by Chantal Chen-Andro (and Martine Vallette-Hemery for Taiwan). Circé 2004, 390 pages.
(5) "The Swan", translated by Dan Murphy, p. 69.
(6) "Facing the Ocean, Spring Warms Flowers Open", translated by Dan Murphy; p. 319.